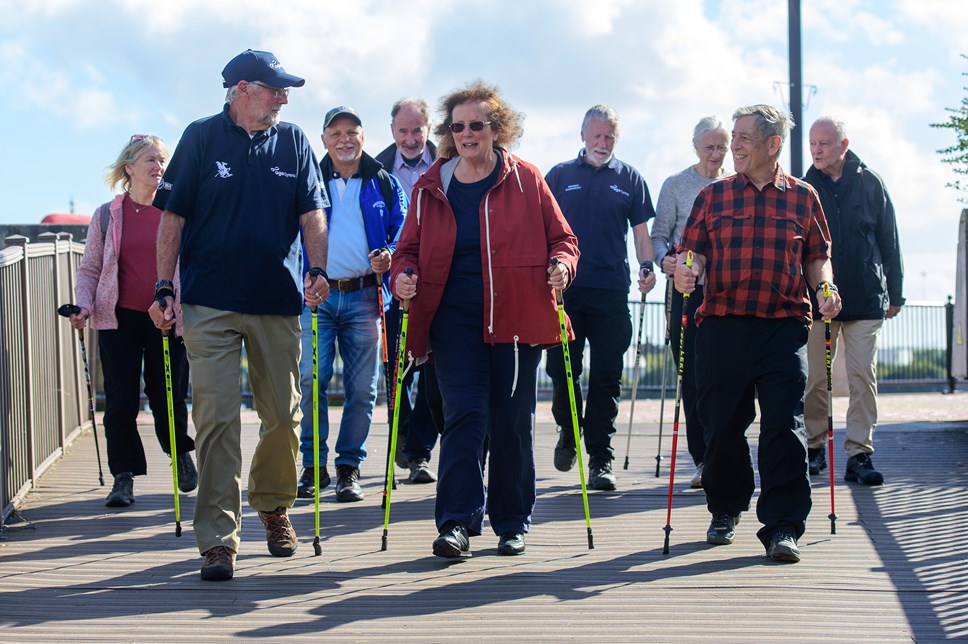 "I want Wales to be a nation that celebrates age" vows Deputy Minister for Social Services
The central role older people play in communities will be recognised as Wales becomes age friendly, Julie Morgan, the Deputy Minister for Social Services has announced.
The Welsh Government has today [Thursday 7th October] launched Age Friendly Wales: Our Strategy for an Ageing Society. The strategy sets out how people of all ages will be supported to live and age well and challenges the way we think and feel about ageing.
Age Friendly Wales will work across the government to address a wide range of factors that influence how we age from health, social care and transport systems to the way we socialise, work and care for others. The four main aims of the strategy are to:
Enhance well-being
Improve local services and environments
Build and retaining people's own capability
Tackle age related poverty
Supporting healthy ageing initiatives, tackling social isolation and fuel poverty, recognising the importance of high quality end of life care, increasing support for unpaid carers are just some of the actions identified in the strategy to meet these aims.
In addition, £550,000 has been allocated to local authorities to support them to become age friendly, engage with older people and become members of the World Health Organisation's Network of Age Friendly Cities and Communities. As well as £100,000 to promote awareness of older people's rights and equality.
To ensure key issues affecting older people are identified, Welsh Government will continue to support five national older people's groups and forums hosted by Age Cymru.
Launching the strategy at an Age Cymru Nordic Walk, the Deputy Minister for Social Services said:
"I want Wales to be a nation that celebrates age and looks forward to getting older. Too often getting older is linked to illness and decline and older people's contributions to society are overlooked. Older people provide vital support to their families; the wider Welsh economy, the Welsh health and care system and provide emotional and practical support through volunteering.

"We will put the voice and experience of older people at the heart of our policy and unlock the potential of today's older people and tomorrow's ageing society. By acknowledging and valuing the contributions of all older people in Wales, we can reject ageism and work across generations to create an age friendly Wales."
Age Cymru's chief executive Victoria Lloyd says:
"We very much welcome the Welsh Government's focus on improving older people's lives and its recognition of the huge contributions that older people make to our communities.

"We also welcome the wide scope of the Strategy, encompassing all aspects of an older person's life from health and well-being to poverty and rights.

The challenge for all of us now is to make sure that the ambitions set are implemented at all levels of government, in our public and private services, and within our communities."
ENDS
Notes to editors
Case Study: Friendship Club
The Friendship Club is an entirely volunteer led group that has been going for around 30 years to arrange monthly social opportunities for older people in the community. Many of the club members live on their own and often feel lonely and isolates.
The monthly sessions consist of quiz nights, afternoon teas, board games and a good chat. With help from volunteers from the local Rotary Club the ladies and gentlemen who are part of the club will be picked up and taken along to the village hall or occasionally to a café in the local area. On 30 September they met at the Topstack Café in the Vale of Glamorgan for lunch and a cream tea.
Kay Edwards (75)
"I volunteered to help with the club when I retired as a midwife. It's myself and a few friends from the bowls club. It means so much to the older friends that we support, it brings such a smile to their faces when we come round to collect them. It gives them the opportunity to chat and socialise which is so important for their well-being. I quite like a good chat myself so it suits me."
"We haven't been able to hold the sessions throughout the pandemic, so it's great that we can now carefully restart our activities. The numbers are a bit lower at the moment as some people are still quite cautious, which is fine, hopefully we can gradually build things up."
Sylvia Cole (78)
"I'm new to the group, they lost a few volunteers during the pandemic so they were keen for some more help. During the lockdowns I think we've all experienced a little bit of what it's like to be isolated and stuck at home, so it's great to be part of a club that helps our older friends to stay connected."
"It's also great that we can rely on the volunteers at the Rotary Club who are also mostly retired folk. They collect our friends and taking the home afterwards. I think we're all looking forward to the Christmas Party next, that should be quite good fun.