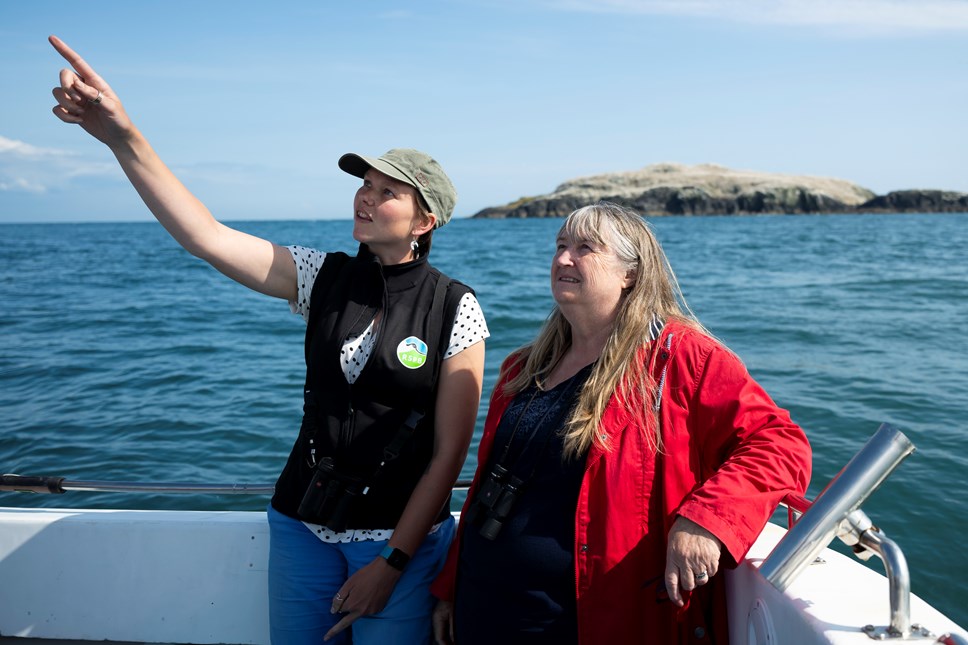 HPAI: Minister visits Pembrokeshire islands as concern over wild bird flu outbreak grows
Climate Change Minister Julie James visited Ramsey and Grassholm Island today off the coast of Pembrokeshire to assess the scale of highly pathogenic avian influenza (HPAI) which is affecting wild sea bird colonies around the UK.
Ramsey and Grassholm are home to some of the world's most important gannet colonies, with guillemots, Manx sheerwater, razorbills and peregrine falcons also nesting on their shores.
The visit, organised by RSPB Cymru, follows reports of bird carcasses washed up on Pembrokeshire beaches with suspected HPAI.
Just last week RSPB Cymru announced that Common and Arctic Terns, Gulls and the Atlantic Puffin had been found dead floating in waters around the Skerries and Rhosneigr islands, Anglesey in North Wales.
In response, Welsh Government has set up and meets weekly with stakeholders through a Seabird Emergency Response Group which bring together multiple agencies to keep a track of the ever-evolving situation.
Seabird colonies tend to live cheek to jowl in dense colonies and have a low fecundity rate, meaning they tend to rear just one chick a year.
Avian Influenza can spread through sneezes, faeces, standing still water and birds of prey or opportunistic scavengers hunting contaminated carcasses.
This allows Avian Influenza to quickly rip through populations and move between colonies while making it harder for the species to bounce back.
In October, in light of an increased risk to poultry the Welsh Government also implemented an Avian Influenza Prevention Zone which required poultry keepers across Wales to comply with stringent biosecurity measures to prevent interaction and possible transmission of infection from wild birds.
The AIPZ was lifted on 4 July but poultry keepers are encouraged to maintain strict biosecurity measures all year round.
Minister for Climate Change Julie James said: "It is heart wrenching to see our mesmerising wild birds fall victim to such a terrible illness.

"I want to thank the RSPB and all of our agencies working tirelessly to monitor the situation, and our local authorities, volunteers and APHA.

"I'm asking everyone in Wales to consider their impact on the environment and to please also heed advice - do not pick up any sick or dead birds and keep dogs on leads to prevent contact.

"Instead report them immediately to DEFRA on the gov.uk website or by calling 03459 335577."

Arfon Williams, RSPB Cymru Head of Land & Sea Policy, said:

"The impact of avian flu on seabird populations has been devastating. It piles the pressure on fragile populations and is adding to the ever-increasing urgency of seabird conservation. Sadly, avian flu is not the only challenge facing seabirds in Wales. The impact of climate change and human activities at sea also necessitate urgent efforts to increase seabird resilience, be that through marine planning, biosecurity and fisheries management."

Chief Veterinary Officer for Wales, Richard Irvine said: "Avian influenza has not gone away. Unfortunately, it continues to be found in the wild bird population, particularly on Anglesey, the Deeside Estuary and Pembrokeshire coast. If you find any sick or dead wild birds please don't touch them and report any findings to the Defra online service.

"If you are a bird keeper please continue to stay vigilant and always maintain the most scrupulous levels of hygiene and biosecurity to protect your flock from disease."
Members of the public should not touch or pick up any dead or visibly sick birds and keep their dogs on a lead to avoid them coming into contact.
Please report sightings to Defra by visiting the gov.uk website (www.gov.uk/guidance/report-dead-wild-birds) or calling 03459 335577.
Sick or injured birds should be reported immediately to the RSPCA on 0300 1234 999.
Notes to editors
Grassholm is home to one of the world's most important gannet colonies. Gannets are recognised for their pale blue iris, which scientists have now discovered turns black in survivors of avian influenza. It is unknown, but hoped, that some immunity will be passed onto their young.
Gannets live cheek to jowl in packed colonies and like many sea birds, have a low fecundity rate, meaning they may only rear one chick a year. Visible gaps on Grassholm reveal a decimated population, leaving concern over how well this iconic species will recover.