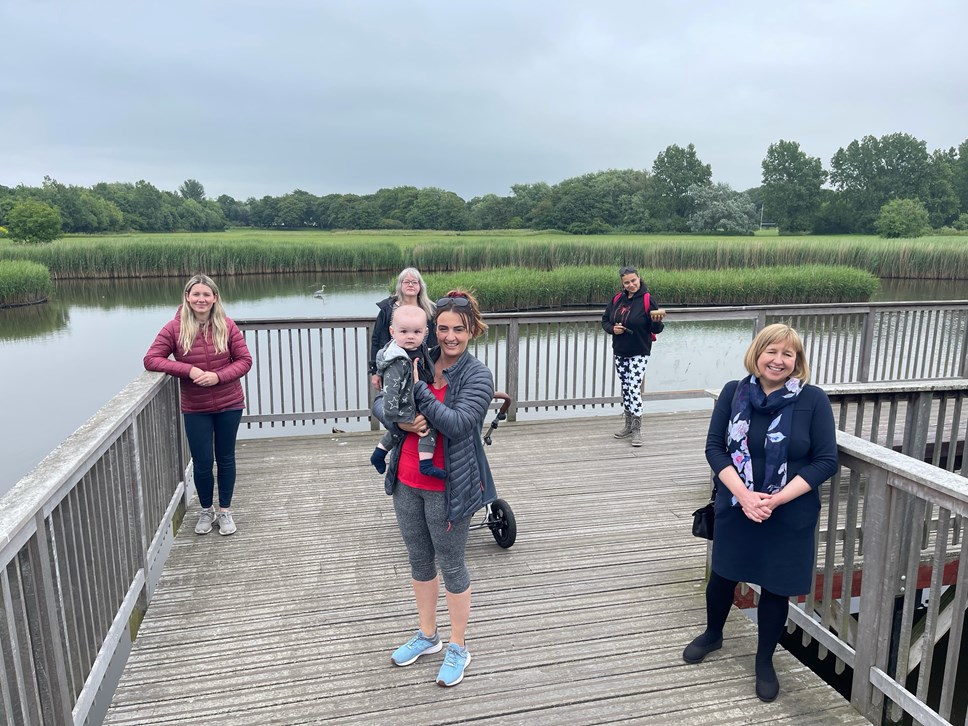 Healthy and Active Fund extended by a year following pandemic
Deputy Minister for Mental Health and Wellbeing Lynne Neagle has announced the extension of the Healthy and Active Fund.
A total of £991,200 additional Welsh Government funding has been granted to extend the fund for a further year, with services severely impacted in 2020 due to the pandemic. The fund was set up in 2018 to help improve mental and physical health by enabling people to adopt healthy and active lifestyles.
Research commissioned by Sport Wales has shown 60% of adults in Wales intend to increase the amount of physical activity and exercise they do as we come out of lockdown. It's hoped the extension of the Healthy and Active Fund will encourage more people to get active.
Earlier this month the Deputy Minister attended a buggy active class based in Abergele led by Babi Actif. The project which is funded by the Healthy and Active Fund, helps families across Conwy, Anglesey and Gwynedd by supporting parents and children to get active during baby's first 1000 days.
The Healthy and Active Fund will once again support a range of activities across Wales with an emphasis on projects which focus on children and young people, people with a disability or long-term illness, those who are unemployed or who live in areas of deprivation or older people and those due to retire from work.
Deputy Minister for Mental Health and Wellbeing Lynne Neagle said: "The coronavirus pandemic has made all of us focus on our health and wellbeing more. Being active has a huge benefit to our physical and mental wellbeing. I'm delighted that activities funded by the programme have now restated and that we have been able to extend the fund by a year, following what has been a difficult time for us all. Projects across Wales are being supported who are offering something for different ages and abilities."

Catherine Williams, Operations Manager, Snowdonia-Active, who runs the Baby Actif, said: "Being a new parent can be tough and the pandemic has certainly heightened new parental challenges for many. Babi Actif has provided parents with what many describe as a "lifeline" for meeting other new parents during this time and an opportunity to do something positive with their babies. Funding through the Healthy and Active Fund enables Babi Actif to offer active, outdoor sessions to hundreds of new parents and their babies across North Wales, building healthy habits from birth and supporting parents physical and mental well-being."
Notes to editors
Details of projects that will receive funding this year are below.
| | |
| --- | --- |
| Sporting Memories Network CIC | Cardiff, Conwy, NPT, Newport, RCT, Swansea & Vale |
| Keep Wales Tidy | Caerphilly, Monmouthshire, Torfaen, Newport & Cardiff |
| Action for Elders Trust | Swansea |
| National Trust | Newport |
| Bridgend CBC | Bridgend, RCT & Merthyr |
| Pembrokeshire Coast NPA | Pembrokeshire, Carmarthenshire & Ceredigion |
| Smallwoods Association | National |
| Early Years Wales | National |
| Newport Live | Newport |
| Play Wales | Cardiff & Vale of Glamorgan |
| Eryri Bywiol | Gwynedd, Conwy & Ynys Mon |
| Women Connect First | Cardiff |
| StreetGames | Blaenau Gwent, Bridgend, Caerphilly, Cardiff, Merthyr Tydfil & Newport |
| The Outdoor Partnership | Ynys Mon, Gwynedd & Conwy |
| Living Streets | Cardiff, Caerphilly, Newport, Monmouth, RCT & Torfaen |
| Interlink RCT | RCT |