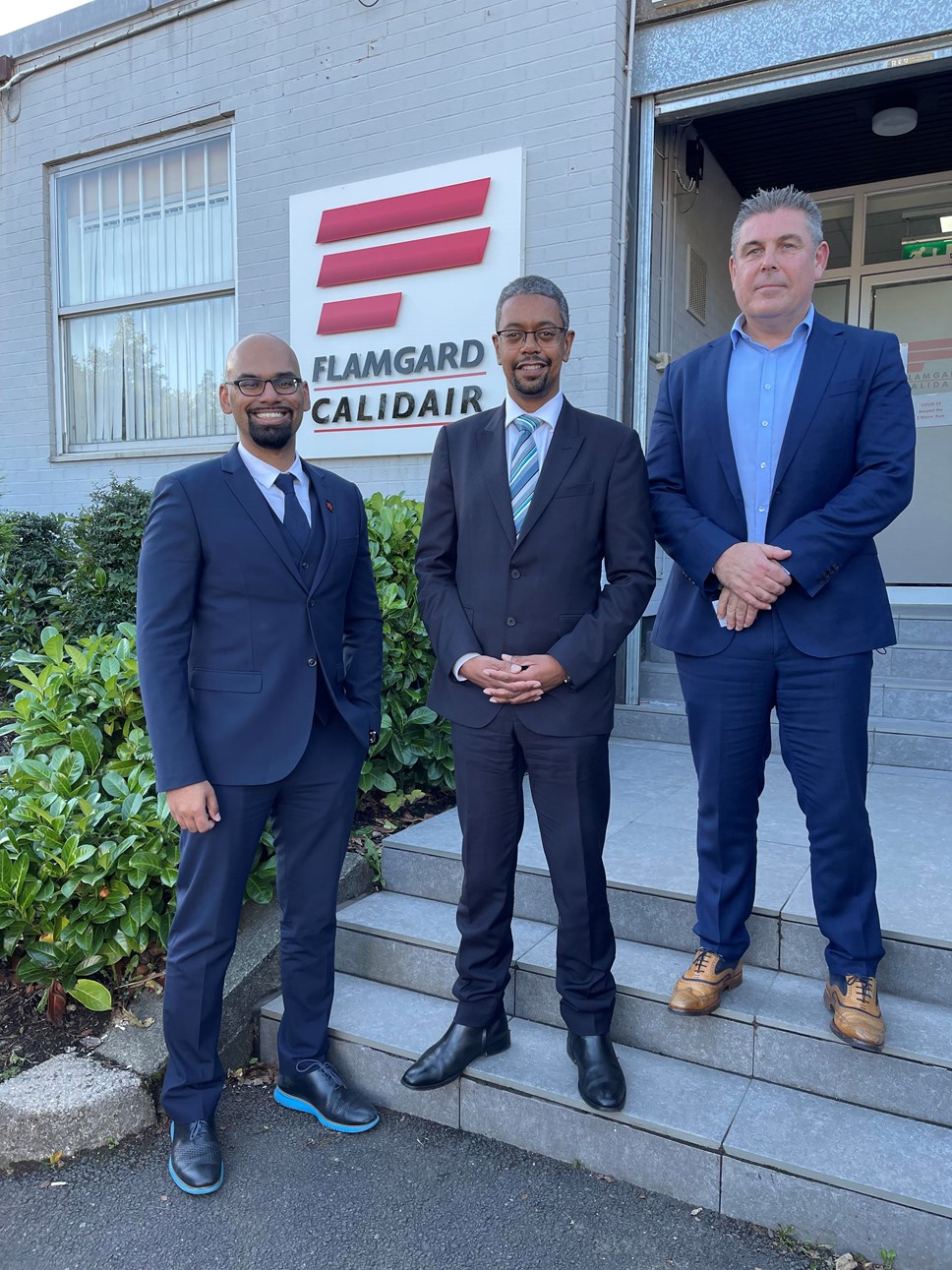 "Grow in Wales, sell to the world" – Vaughan Gething
"Grow your business in Wales and sell to the world" - that was the message from Economy Minister, Vaughan Gething today as he visited Pontypool-based manufacturer and exporter Flamgard Calidair to encourage more Welsh companies to export their goods and services internationally.
Flamgard Calidair is a global leader in the design and manufacture of High Integrity HVAC air flow control dampers. These stop the build up of toxic gases and prevent explosions and are used in energy, marine, construction and recycling industries across the globe.
Employing around 70 people in Wales, the company started exporting in the 1980s, and exports now account for 75% of its business, with the firm exporting its products to more than 10 countries across the EU, Australia, the USA, South America and South East Asia.
Like many other businesses in Wales, exports are crucial for the company during challenging times. The company is looking to place a further drive on exports as part of its growth strategy. It aims to double its turnover by 2025 and sees exporting as the route to achieving this goal.
The company has been supported by the Welsh Government's export team, through visits to key markets and attending trade shows, as well as researching new export opportunities. It has also benefitted from wider Welsh Government business support, including Innovation and the Fit for Nuclear programme.
Economy Minister, Vaughan Gething said:
"For some businesses, the UK market is simply too small, and Flamgard Calidair are an excellent example of how companies can transform their business by exporting their goods and services to markets across the world.
"Overall, this period in our history will undoubtedly be one of the most challenging for our businesses and workers, particularly when trading internationally. I believe, however, our new Export Action Plan is the most ambitious and most comprehensive programme of export support ever put in place in Wales and will support our people and economy to face the challenges now and in the future.
"The Welsh Government wants to maximise the potential that exporting can bring to transform businesses, drive innovation and adaptability, increase resilience and support businesses to provide long-term, sustainable employment.
"My message is – grow in Wales, sell to the world.
"I believe Flamgard's very successful expansion and journey will inspire other companies to pursue the rich opportunities of global export markets."
Lee Bramald, Flamgard Calidair CEO said:
"By exporting to multiple locations, with a good geographical and sectoral spread, we have ensured that we are not wholly dependent on just one marketplace. This has been crucial in ensuring our resilience through changes to the global trading environment, including the pandemic. Exporting has transformed our business and fuelled our growth.
"Support from Welsh Government has been great for our international expansion, enabling us to attend invaluable trade missions, assist with crucial market research to understand what sectors and regions we could potentially work with, while funding assistance has helped us with R&D to enable us to innovate and meet project requirements.
"I would urge any company who is thinking about exporting to get in touch with them. They have a wealth of expert export advisors who can help get your company and products onto the global stage."