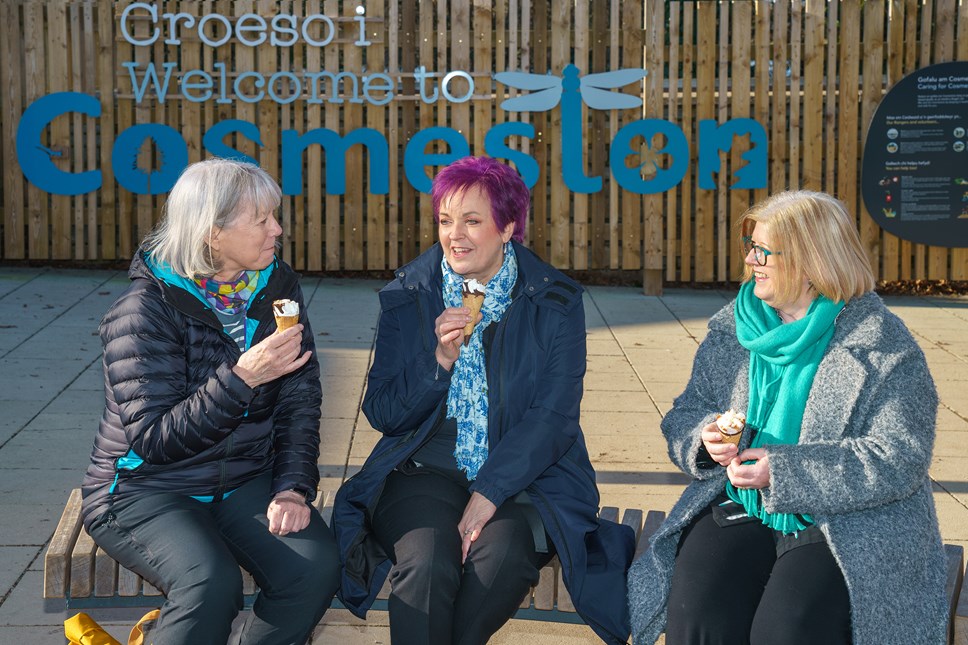 Getting the basics right - £5 million tourism fund launched
The Deputy Minister for Arts and Sport, Dawn Bowden, has today launched a £5m Brilliant Basics tourism fund for 2023-2025.
Brilliant Basics is a capital fund to deliver small-scale tourism infrastructure improvements across Wales and is aimed at public, third sector and not for profit organisations.
Previous projects funded by Brilliant Basics have included electric vehicle charging points, improved toilet and car parking facilities, accessible changing places facilities and improved signage and interpretation panels.
Brilliant Basics will also support projects that improve accessibility at sites and those that make their destinations more environmentally sustainable.
2023 is Wales' Year of Trails which presents the tourism sector with an opportunity to showcase attractions, landscapes and coastline through routes and trails. Brilliant Basics will encourage Local Authorities and National Parks to consider the entire visitor experience and the essential infrastructure that makes a trail experience complete, from pathways, to parking to making facilities accessible for all.
On her first visit since assuming responsibility for Tourism policy within the Welsh Government, the Deputy Minister, Dawn Bowden visited Cosmeston Country Park which has previously received Brilliant Basics funding. The Vale of Glamorgan received £122,124 during the first round of Brilliant Basics 2021/22 to develop the Visitor Gateway project which improved access and pathways to Cosmeston Lake and jetty, including adding seating and shelter, new road access and entrance and resurfacing the jetty and slipway.
The Welsh Government's Brilliant Basics project was the catalyst for further on site improvements from the Vale of Glamorgan including a new play area, site for concessions, round house and learning facilities, and new branding, interpretation and signage throughout.
Since project completion the park has experienced an increase in visitor numbers and its new additions have proven very popular with visitors.
Deputy Minister, Dawn Bowden said:
"The projects supported through the Brilliant Basics fund make a real difference. For this funding round, we're seeking proposals that add value to the visitor experience and that help to build a quality destination.

"Local tourism amenities have a big part to play in making a trip a memorable one. These facilities often go unnoticed, but they are an important part of a visitor's experience and also benefit those who live in the area."
Leader of the Vale of Glamorgan Council, Cllr Lis Burnett said:
"The Council is very proud of its country parks, which offer residents and visitors the opportunity to enjoy a large and varied outdoor space.

"There are range of features to enjoy at Cosmeston, including diverse wildlife and open spaces, picnic areas and a brand new play area.

"This funding has allowed us to improve the park further through the Visitor Gateway Project. That has seen access routes upgraded and new facilities added or refurbished throughout the site."
The closing date for expressions of interest is the 16 March – further information available on Finance | Business Wales (gov.wales)
Notes to editors
Cosmeston Country Park is a 110 hectare urban fringe country park on the outskirts of Penarth attracting around 250,000 visitors each year. Owned and managed by the Vale of Glamorgan Council, the park is open 354 days per year and offers activities such as, walking, picnicking, horse riding, sailing, windsurfing, kayaking, sup boarding, model boating, canoeing, cycling, kite flying and orienteering.
Cosmeston facilitates many school trips for environmental activities and also provides activities for children during school holidays.
The Visitor Gateway Project improved access and pathways to Cosmeston Lake and jetty, including:
Increase and improvements to Seating and Shelter including installation of 3 new bins;
New access road and entrance;
Resurfacing the jetty and slipway, including installation of three picnic benches and dedicated commercial concession area plot 5m x 3m which will allow for vendors, information stands and promotion events to take place.
Picture: Left to right: Leader of Vale of Glamorgan, Cllr Lis Burnett; Deputy Minister, Dawn Bowden and Deputy Leader and Cabinet Member for Sustainable Places, Cllr Bronwen Brooks.