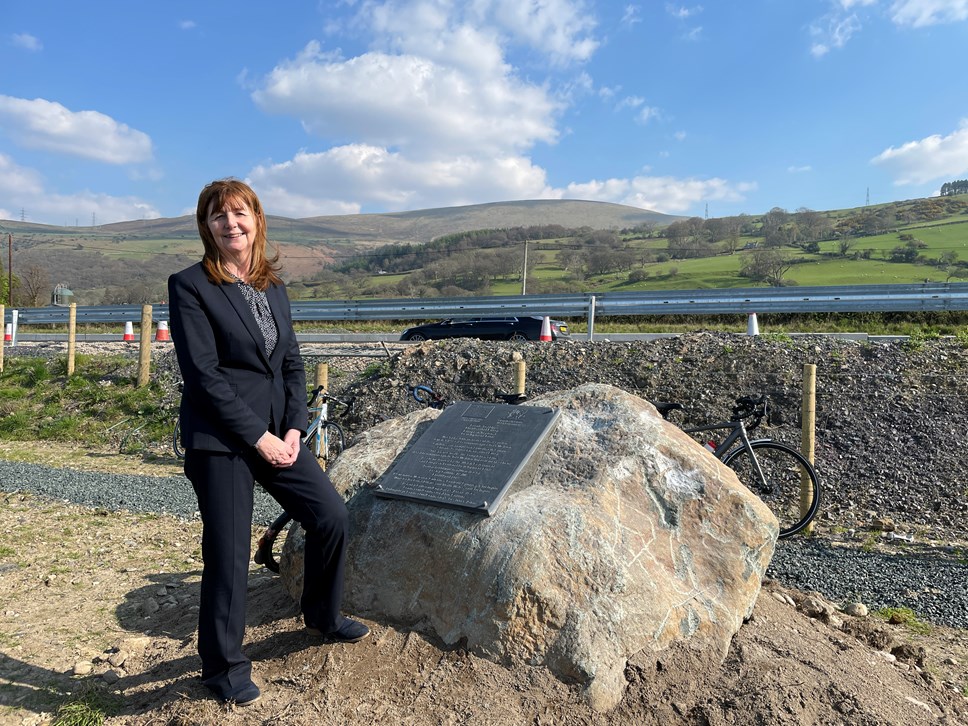 £30m Active Travel route and A55 improvements officially opened
The completion of the safety and improvement work on the Aber Tai'r Meibion section of the A55, which includes a new active travel route, has been officially marked by the Minister for North Wales Lesley Griffiths.
The £30m scheme, which includes £20.7m EU funding, addresses the increased risk of flooding due to climate change and also improves safety on the section which was over 50 years old. Work included removing eight gaps in the central reservation where agricultural vehicles used to cross.
It has also delivered over four kilometres of a new and improved active travel route linking Abergwyngregyn with Tal-y-bont, Llanfairfechan and National Cycle Network 5 after consultation with residents of Abergwyngregyn. The development has been welcomed by cycling groups.
Two lanes of traffic were maintained on the A55 throughout the work.
Unveiling a plaque to mark the official completion of the scheme Lesley Griffiths said: "This scheme has delivered real improvements to this stretch of the A55, making it safer for the travelling public and increasing its resilience against the impact of climate change. We know this stretch has suffered from flooding in the past, and the work which has now been completed will make a real difference in protecting the highway.
"I'm also very pleased to see the active route, which provides a vital link for cyclists and walkers on this particularly scenic section of the route. It's good to see the route already well-used by cyclists.
"I'd like to thank all those involved for their work in delivering these important improvements to increase safety, resilience and active travel opportunities."
The Deputy Minister for Climate Change with responsibility for Transport, Lee Waters said: "This is great news. Not only will this investment defend this stretch of road from flooding, it will also encourage more people to make local journeys by bike rather than use their cars, allowing them to improve their own health and wellbeing whilst protecting our environment."
John Mather from Cycling UK said: "Cycling UK greatly appreciates the efforts made by the Welsh Government, Gwynedd Council and Griffiths Contractors to provide new and improved facilities (on and off-road paths) for cyclists using NCN route 5 as part of the recently completed A55 Improvement between Abergwyngregyn and Tai'r Meibion.
"These new and improved paths will do much to improve road safety and make cycling along the North Wales coast more direct, attractive, and comfortable for all who cycle (active travellers, club cyclists and those who cycle for exercise and/or recreation). We look forward to working closely with the Welsh Government and other stakeholders and to helping them deliver an integrated, accessible and sustainable transport system."
Richard Tidmarsh, Infrastructure Director from Griffiths said: "We are proud to have been a part of this project and to have played a role in its successful completion. I would like to take this opportunity to express my gratitude to all of our local supply chain partners and stakeholders who have worked with us to make this day possible. I would also like to thank our construction team, who have worked tirelessly to ensure that this project has been completed to the highest standards."
Councillor Berwyn Parry Jones, Cyngor Gwynedd's Cabinet Member for the Highways, Engineering and YGC Service, said: "It has been an honour to support Welsh Government to deliver the improvement scheme on the A55 between Junctions 12 and 13.
"Our Engineers and Ecologists have been overseeing the safety improvements on the 2.2 kilometre stretch of the dual carriageway, which includes removing direct access off the A55, as well as closing eight gaps in the central reservation which allowed slow moving vehicles to cross the A55.
"As we are eager to see more people choosing to travel on foot or by bike, so it has been a pleasure to contribute towards providing more than four kilometres of new and improved active travel facilities
"We are confident that the scheme will greatly benefit the local community as the risk of flooding is being reduced in the area through the construction of an improved drainage system and a larger culvert for the Afon Wig."