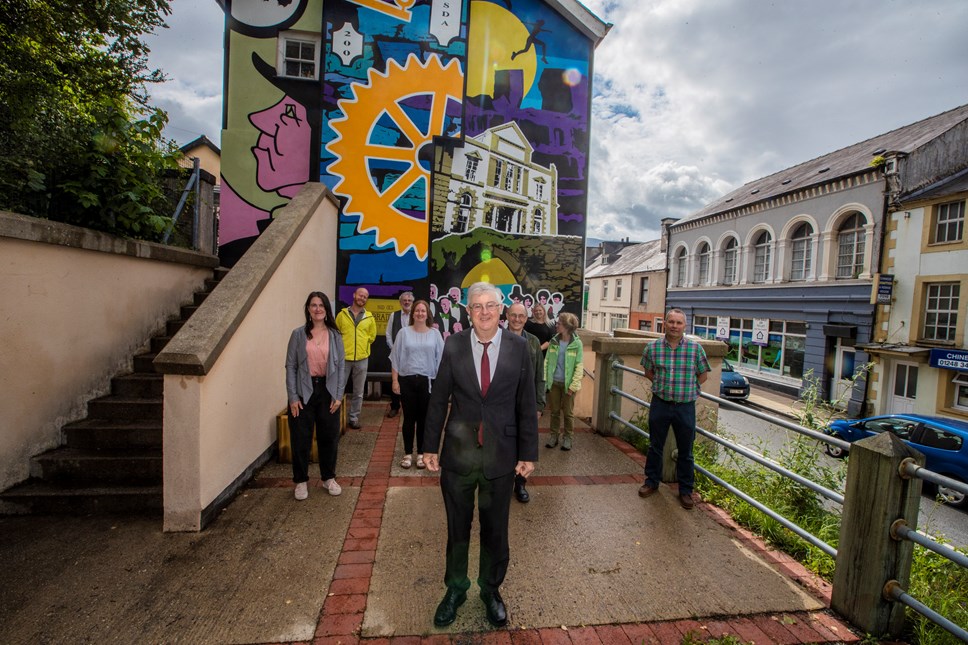 £1.5m boost for local community projects
Thirteen community projects across Wales have been awarded a share of over £1.5m in funding by the Welsh Government.
The Community Facilities Programme funds well-used amenities to improve sustainability, providing opportunities for local people as part of their day-to-day lives.
The latest awardees up to £250,000 are:
Green Squirrel CIC, Cardiff - £154,000 to improve access and fit-out their community hub, including creating a community garden
Partneriaeth Ogwen, Gwynedd - £225,000 to transform an old school into a Centre of Excellence in Innovation and Sustainability
Tabernacl Bethesda, Gwynedd - £250,000 to bring outbuildings into use as flexible spaces for music, dance and arts
Canal and River Trust, Monmouthshire - £225,000 to ensure a safe and accessible for all route to and from the canal towpath and community facility
Bulldogs Boxing and Community Activities, Neath Port Talbot - £204,000 to enhance their facility and build therapy rooms for mental health services for veterans
Glangrwyney Village Hall, Powys - £200,000 to create a community hub for two adjoining communities: Llangenny and Glangrwyney
The Include Hub, Swansea - £148,000 to help purchase their current building which has been in community use for many years, as a safe place for local groups such as refugees and asylum seekers, young homeless people, interfaith groups and ex-offenders
Ponthir and District Sports Club, Torfaen - £41,000 for a new drainage system for a pitch which is used by over 250 people aged 5 to 65 years old
The latest smaller fund awardees (up to £25,000) are:
Caldicot RFC, Monmouthshire - £8,000 towards the refurbishment of their washrooms and baby changing facilities
Anne Matthews Trust, Powys - £25,000 to undertake repairs to their building, including a new roof
Long Bridge Street Chapel, Powys - £25,000 to fix stone work, repair external walls and fences, and overhaul their drainage system
Friends of Talycopa, Swansea - £25,000 to resolve historic flooding issues at Trallwn football field
Wenvoe Community Library, Vale of Glamorgan - £14,000 towards replacing the existing building with a new unit to incorporate a café and digital suite
The Minister for Social Justice, Jane Hutt, said:
"Now more so than ever our communities and the wonderful facilities within them are centres for bringing people together and building back a stronger, fairer Wales for all.

"Despite the extraordinary challenges we've faced during the past 18 months, community spirit and the resilience of Welsh people has shone through. The Community Facilities funding we are announcing today will continue to help bring our local groups together through support for local projects."
Speaking about what the funding will mean to them, Ceri Stilwell, Chief Executive of Bulldogs Boxing and Community Activities in Neath Port Talbot, said:
"We are over the moon to have been awarded this funding which will allow us to extend and update our Development Centre in Port Talbot. It will also enable us to continue to support the community in this ever-changing world by providing us with increased space to offer our sessions supporting children and young people, as well as providing a safe space for veterans to continue to receive support.

"Together we are stronger - more than a boxing club."
Partneriaeth Ogwen in Gwynedd was visited by the First Minister Mark Drakeford last week. Explaining the project, Meleri Davies, Chief Officer, said:
"Partneriaeth Ogwen is a social enterprise with community, economy and sustainability at its heart and Canolfan Cefnfaes will be developed with these three themes in mind.

"The boutique bunk house and business units will bring economic benefit to the area and the centre will also have a multipurpose community room. We already have a maker space and repair café planned and we'll be working with local partners on sustainable energy options for the building with two electric charge points due to be installed shortly.

"Community Facilities funding is an important milestone for the project as we raise the capital funds to renovate this important community resource."
The Community Facilities Programme accepts new applications all year. Find out more here: www.gov.wales/community-facilities-programme
Notes to editors
Additional case studies and photos
Glanrwyney Village Hall in Powys
Speaking about the funding, Phill Bowker, Chairman of the Trustees at Glanrwyney Village Hall in Powys, said:
"This project has been 5 years in the making. It will mean a great deal to the locality, creating a number of different spaces that can be used in new and interesting ways by a much wider range of the community.
"The Hall will also become more of a community hub and the 'CHaT' room in particular will create an informal space that will be open for people of all ages just to drop in and meet over a coffee. This will help to bring the community closer together and will also be able to help in tackling such issues as rural isolation."
The Include Hub in Swansea
Speaking of the funding, Emma Jones, Managing Director of Include in Swansea, said:
"This funding is a lifeline to support growth and allows us to think long-term. It gives us the flexibility to respond to the ever-changing needs of our community, especially during the pandemic when people need us more than ever.
"This fantastic Community Facilties funding will allow us to invest more time in volunteers, confident in the knowledge that they have a base from which to continue helping others long into the future. Our services support some of the most misunderstood individuals in our communities, who often find themselves caught up in crime as a result of years of trauma and adversity. We help with a huge range of things from well-being, food poverty, early diversion, domestic abuse, breaking cycle of intergenerational crime and getting people more work ready.
"The Include Hub is a space of hope, giving people a sense of belonging and helps its members to take steps towards change and recovery, breaking the cycle of crime and making our community safer for all."