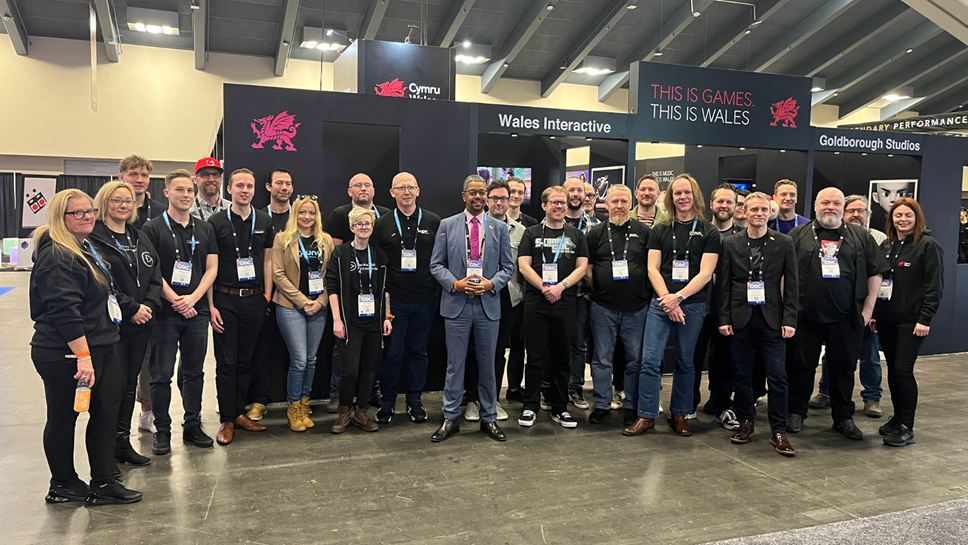 Game on: Welsh companies leading the way at the Game Developers Conference
Some of Wales' leading games development and software companies have been in San Francisco this week at the gaming industry's largest annual gathering, thanks to Creative Wales and Welsh Government support.
The Game Developers Conference (GDC) is the largest annual gathering of professional video game developers in the world, and the pinnacle for showcasing industry excellence. In 2019, the event attracted more than 29,000 game industry professionals and is a must for industry professionals seeking to attract attention, support, promotion and credibility.
In Wales, the growing field of games engine technology is underpinning new content production development. Thanks to strong industry networks and collaborative spirit, Wales' game businesses can draw upon a pipeline of talent trained at our world-class universities, from designers and 3D artists to programmers and sound engineers.
Across Wales, games developers are producing interactive masterpieces, with strong hubs in South East and North East Wales. From here, brands like Wales Interactive and Tiny Rebel Games make their way to screens across the world. In West Wales, Goldborough Studios is producing high quality character led games. The studio is currently working on Yami its first internally developed PC/Console game.
With the UK games industry worth an estimated £7bn in 2020 - an increase of 29.9% from 2019 - the Welsh Government is fully committed to helping Welsh companies to grow and to trade internationally, as well as supporting inward investment opportunities.
Since 2017, Wales has its own stand at the conference – which provides a fantastic opportunity to promote Wales' gaming companies to a global audience. At the GDC in 2019, a total of £2.6m worth of deals with Welsh companies were recorded.

Minister for Economy, Vaughan Gething attended GDC this week along with an 18-strong delegation of Wales' leading gaming companies as part of a Welsh Government-led Trade Mission to the US West Coast.
Before heading to San Francisco, the Minister visited one of the companies that took part in the trade mission, Wales Interactive, at their headquarters in Tec Marina, Penarth.
Economy Minister, Vaughan Gething said:
"In Wales, we're serious about games and gaming technology. We support a thriving community of innovative businesses, making the most of local talent to secure international success.
"This is a key sector within our creative industries which offers well paid sustainable jobs. That's why we're giving games developers the backing they need to turn inspiration into reality, growing their potential in a fast-changing sector. This includes equipping the sector with the talented and skilled people they need to help them grow and thrive.
"With representatives attending from across the globe, this event was a great opportunity for Welsh businesses to promote themselves and, alongside Creative Wales, to show potential investors what Wales has to offer."
Wales Interactive is the world's second-biggest publisher of interactive movies. Richard Pring, Founder & Director of Wales Interactive said:
"Ever since going on the inaugural trip seven years ago, the Welsh Government GDC Trade mission has become a key date in our calendar. In that time has it has created hundreds of business and networking opportunities for us, and has given us the chance to showcase top Welsh talent and Games on the world stage year after year!"
Notes to editors
The companies who attended GDC are as follows:
Space Colony Studios - Jonathan Durham
Based in Cardiff, Space Colony Studios is a collection of independent artists, writers and developers working together to create the Stories from Sol anthology of games; a multi part, narrative focused series created to express our love of retro science fiction and interactive storytelling. The first title in this series 'Stories from Sol' will be out in Q4 2023.
The opportunity to attend one of the industry's premier events will provide Space Colony Studios to effectively present their products to global press and industry representatives, unlocking larger markets and business connections, such as publishers from different territories.
Free Games - Gareth Thomas
CritterCraft is an experimental WEB3 metaverse developed by 2 web game veterans. Gameplay includes crafting, the world's first Twitch integrated NFT games, real life collectables and more.
Bird in Sky Studio - Matt Griffiths
Bird in Sky is based in north Wales. The developers started making games together in the late 1990s and came up with '3030 Deathwar' which took 17 years before it was released on Steam. '3030 Deathwar' is a top down space-adventure featuring thousands of movie references and has a global fan base. The developers are now developing a sequel and aiming to find a publisher to partner up to make the greatest space-adventure sequel the galaxy has ever seen: 3032.
Imersifi - Joe Charman
Imersifi is a virtual reality software studio that specialises in creating fully interactive training experiences for enterprise. Imersifi was created to deliver market leading, natural and effective VR training solutions. As the only masters-level qualified VR studio in Wales, Imersifi stands out for its expertise in interaction design, data integration, and user-centric instructional design. The team has a proven track record delivering VR training for a variety of industries, including medical, health and safety, and engineering. Imersifi's unique offering is the ability to create fully bespoke, tailored, and easily updatable VR experiences with integrated learning.
GDC 2023 represents a fantastic opportunity for the company to showcase Imersifi and their cutting-edge VR training solutions.
Wales Interactive - David Banner
Wales Interactive is a multi-award-winning video games and interactive movie developer, publisher and investor. As well as creating their own in-house titles, they have evolved into a publishing label collaborating with some of the most talented game developers and film makers across the globe to help bring their original creations to gaming platforms. Their growing portfolio of titles have been played by millions globally, including; Maid of Sker, Late Shift, Sker Ritual, Ten Dates, The Complex, Five Dates and The Bunker. Their products are entertaining the world as well as putting Wales on the video games map.
Animated Technologies - Anna Burke
A digital agency that creates engaging animations and immersive interactive VR and AR applications. Storytelling and creativity is the driving force behind their projects, with a highly skilled team able to make projects look amazing and work brilliantly. Animated Technologies are able to assist in captivating animation to explain ground breaking products, provide an immersive virtual reality training experience, or app to guide people around a historical town.
The company is looking to use the GDC as a soft launch platform for their VR language learning Platform 'Pentre VR'. Gaining feedback and connections to fully launch the product by the end of the year.
Goldborough Studios - William Morris-Julien
Goldborough Studio is an independent game developer that creates games and character-led content using pencils, pixels and knowledge. In the eleven years since formation they have provided visual development, character design, and content for eleven games, four feature films, and two animations. This year they will release their first internal title - YAMI for PC and Next generation consoles. In addition, they are currently developing a new IP.
They aim to create award-winning immersive story-led games that resonate with the player.
Sugar Creative - Will Humphrey
Sugar Creative are an award-winning studio that delivers wonder through innovation. Bringing imagination to life, with inspirational and incredible outcomes for everything from entertainment to marketing and science. Based in Cardiff and serving international partners including Aardman, Toyota, Allianz, Dr.Seuss, Kingspan, Ubisoft, BBC, and OSMO they are regarded as one of the UKs leading creative innovators. Current flagship projects include a recent partnership between Sugar and Ubisoft creating a global first-of-kind immersive experience that will bring the world of Assassin's Creed Valhalla to life in XR, a brand new story engine creating narrative VR experiences, a partnership with National Museum Wales to give voice to underrepresented interpretation of the museum collection, and an inclusion and innovation project that will develop the ability to effectively incorporate BSL into VR as an equal language.
Black Dragon Studios - Julian Hainsworth
Black Dragon Studios is an independent video games development company based in Swansea. Founded in 2018 the company has launched games on the PlayStation 4, the Nintendo Switch, Oculus VR, and the Vive VR headset. They are currently working on games for the Xbox Series X/S and the Switch. The Black Dragon team has a background in the creative industries and academic research; the team has a combined experience of over 30 years developing games, practising & teaching creative design, and software development.
Sammy Snake Ltd - Sam Stuttard
Nova Rally is a 3D Racing Strategy Game designed with mass appeal in mind and is easy to pick up and play. Players choose a Car and two Alien Drivers and watch the action unfold in our Racing Simulation with Crashes, Rams, Explosions and Celebrations.
Games Alchemist - Tobias Johnson
Games Alchemist Ltd is a video game dev firm based in Newport developing console & PC games. Founder Tobias Johnson is a Bafta-winning director for Creature Battle Lab developed for the Welsh Government, through the Microsoft Greenshoots award. Awarded the Wellcome Trust Award and Future entrepreneur award. The company's latest project "Big Job" is a third-person cover shooter with stealth elements set in 1980s dystopian Britain. Big Job received support from Creative Wales and has a planned staggered release on PC and console. Games Alchemist is seeking publishing, investment, porting, marketing, Q&A testing, and localization opportunities for the game.
Games Alchemist will be showcasing their latest project, 'Big Job', at GDC 2023.
Run Wild Entertainment Ltd - Darran Thomas
RUNWILD Entertainment Ltd is an independent game development studio formed in September 2016 in Mountain Ash. They have a team of veteran developers and a number of contractors that they work with based around the world. The company has a mature understanding of making games together and having a creative and collaborative focus. The ambition is to become world renowned for co-op PvE multiplayer games, bringing players together in unique and inspiring adventures.
Cloth Cat - Ben Cawthorne
An award winning development studio based in Cardiff, making games and interactive experiences for a range of platforms. Specialists in Unity engine with several game releases to their name for PC, mobile and web; they have additionally created over twenty HTML5 games since becoming established. With a recent rebrand comes exciting change and laser focus on games for PC and console - originating new, characterful IP and working with other studios on collaborative projects. They can help studios with development (Unity), art/animation, UI/UX, optimising/porting and other creative endeavours due to their diverse skill set.
DragonfiAR - Alan Boyce
DragonfiAR is a games studio that develops immersive, captivating and cutting-edge mobile, VR and desktop games. Our specialties are virtual reality (VR) and augmented reality (AR) combined with narrative and massively multiplayer online (MMO) games. Our goal is to create games that bring players into exciting and imaginative worlds, engaging them with thrilling stories, compelling characters, and unforgettable experiences. Come join us and explore the possibilities!
Iungo Solutions - Jessica Leigh Jones
iungo Solutions is creating the connective tissue between employers, training providers, and talent. By developing immersive and experiential learning programmes, iungo develops and upskills talent for high-skilled roles in emerging and priority sectors including Games Development and other creative industries. iungo has developed a bespoke upskilling programme designed to engage underrepresented talent in the gaming industry. This nine-month flexible programme upskills aspiring games developers to a professional level with the option to establish a new games development enterprise through a specialised incubator programme.
ClearPixelVR - Jake Spanswick
ClearPixel VR, are augmenting the practical side of learning within the field of Neuroscience. Using VR, they are building a virtual training platform that provides safe, repeatable environments where individuals can learn about different lab equipment and practise industry techniques. Our virtual spaces provide efficient means to stay confident and competent in practical Neuroscience, by making safe, virtual work environments that provide accurate exposure to techniques, procedures and equipment. We also provide analytical statistics of individual training performances, showing their progression and improvement trends across any number of exercises.
Bomper Studio
Bomper is an independent creative production studio, creating work filled with character and originality. Our work for advertising, branding, broadcast and music videos, spans live action VFX, hand-crafted animation to hyperreal CG, and everything in between. Most notably, Bomper has directed two animated music videos for Foo Fighters, and has partnered with award-winning game publisher Big Fish on a series of comedic shorts for their title EverMerge. The team is made up of talented in-house artists, illustrators, animators, art directors and producers. Our credo is to constantly embrace our natural-curiosity and challenge our ambitions, by playing with mediums and formats, in crafting our best work. And of course, having a lot of fun along the way. It's this energy and dedication that makes Bomper stand out.
Virtus Tech - George Bellwood
Virtus Tech is a Google backed UK leading expert in virtual reality technology. Their mission is to provide companies with a no code solution to build a library of unlimited interactive VR training simulations which is also accessible on any device. The all-in-one VR platform provides industry professionals with the tools to create their own virtual training content quickly and effectively where employees can be immersed in a 360-degree 'real world' scenario as well as interacting with 3D digital learning objects around for high knowledge transfer, saving businesses time and money. Clients include NHS Wales