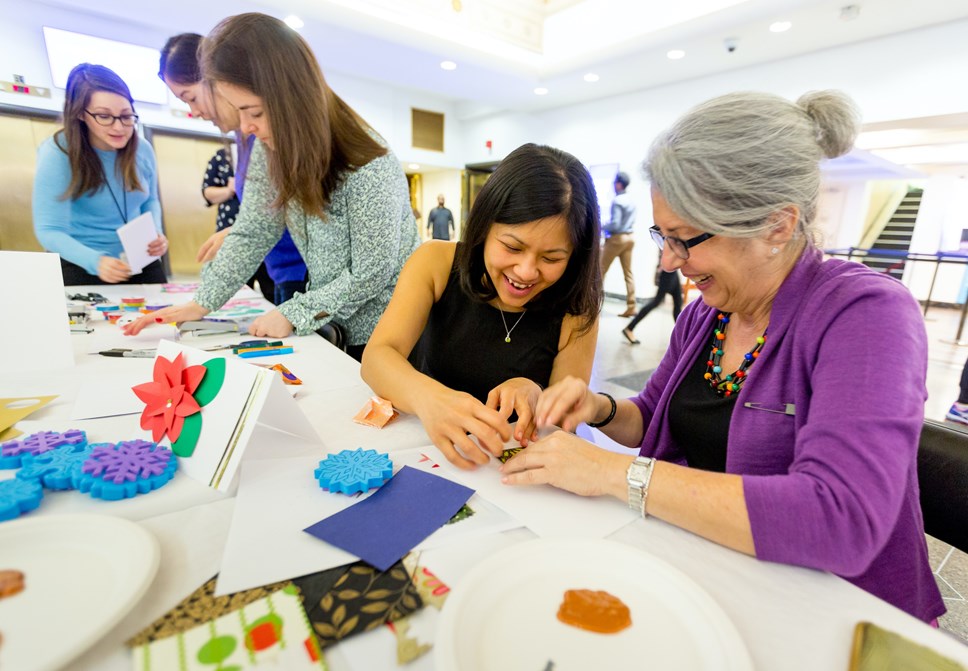 Fund to tackle loneliness and isolation launched
A fund to tackle loneliness and social isolation will help grass root organisations bring communities together across Wales.
The three year Loneliness and Social Isolation Fund will support front-line, local, grass-roots organisations, which bring people of all ages together, helping them to build social connections in and across communities.
£1.5 million has been split across Welsh local authorities, working in partnership with County Voluntary Councils, over the next three years and will help organisations run face-to-face activities safely and securely or continue online activities if access to venues is difficult or to reach people who are not ready to attend in-person events.
All applicants had to demonstrate how their proposal met one or more of the Welsh Government's loneliness and social isolation strategy priority areas.
The Deputy Minister for Social Services, Julie Morgan said:
"Community groups are best placed to understand what their communities need and what support is required to help people re-engage and re-build social connections. The funding announced today will help small organisations support their communities by scaling up existing activities, promoting themselves more widely and helping fund the use of suitable venues.

"The pandemic caused many people across Wales to feel lonely and isolated. Even with the lifting of restrictions some people may still have some concerns or hesitations about leaving their homes and re-engaging with others. I hope the projects funded will help alleviate some of these fears."
Councillor Bobby Feeley, Denbighshire County Council's Lead Member for Well-being and Independence, said:
"We are delighted Denbighshire has been successful in its bid to the Welsh Government's Connected Communities Loneliness and Isolation fund. In Denbighshire we will be calling this the "Getting Back Together" fund. Denbighshire Voluntary Services Council and the Council's Community Support Services, Community Development, Libraries and One Stop Shops have already received requests for support for a range of activities and interventions which will help residents re-engage with friends, families and those with shared interests.

Many people have been suffering considerably from a sense of loneliness and isolation particularly since the pandemic began and this fund will help to support those in need."
Councillor Lisa Dymock, Monmouthshire County Council's cabinet member with responsibility for Community, Well-being and Social Justice said:
"This funding will really help to kickstart local community projects and support communities to turn their ideas into reality. We know that loneliness and social isolation are serious problems in our county and can affect anyone of any age or background. We know the best way to tackle loneliness is to build thriving, inclusive communities from the ground up; this is the core purpose of our local community networks. Building on the strong partnership between GAVO, Monmouthshire Council and other important local organisations, Monmouthshire's community networks are a way to help people who want to take action and make positive changes in their area connect with other like-minded people.

"Putting communities in the driving seat is at the heart of everything we try to do in Monmouthshire. We know that local groups and citizens are fizzing with ideas for how to transform their local areas and to bring people together in the process. This fund will be another important step in supporting them to do just that and to help all our residents to be fully included in their local communities."
ENDS
Notes to editors
Notes
Examples of the types of things this fund will help
DVSC Denbighshire Voluntary Services Council
During the early days of the lockdown in 2020, DVSC recruited and deployed Community Volunteers to support isolated people in the community. Undertaking a range of activities, DVSC volunteers undertook some practical tasks such as doing shopping and collecting prescriptions, and many more around personal contact resulting in an overall befriending (virtual and face to face) programme that was essential during lockdown. Funding will help to continue to support these volunteers and to provide training and mentoring as required.
Vision Support provide services for people living with all sight loss conditions. Social isolation is a significant issue facing the visually impaired community in which the pandemic has significantly increased. Vision Support deliver many social groups in the Denbighshire area; one of the groups 'Rhyl Visionaires' has unfortunately been unable to run again as the room in their old venue was only large enough to fit four people in safely in accordance with the government guidelines. The group are now looking for other venues that now incur a room fee. Access to this fund will help the group to meet up again in the future.
Those benefitting from the support provided by Hafal and CAIS around mental health and alcohol and drug issues are collecting ideas for activities, for example Christmas lunches, and trips to Liverpool, this are for events that carers and cared can do together and would be a major contributory factor in boosting confidence and lifting spirits.
Extra funds could support volunteers to escort citizens to take part in the activities of their choice and to provide an evening service for those who want to take part in activities or a meal out etc.
A number of groups have re-started, including Men's Sheds, Tai Chi, and other exercise groups, choirs, Day Care, Visual impairment and other Drop in groups and plans are going ahead for community groups to hold Christmas events and in due course, St David's day celebration lunches.
However, attendance is still very low and we learn regularly of those who lack the confidence or funds to attend again. Being able to respond to requests for funding to help with publicity or to respond to particular issues will, undoubtedly, make a real and significant difference.