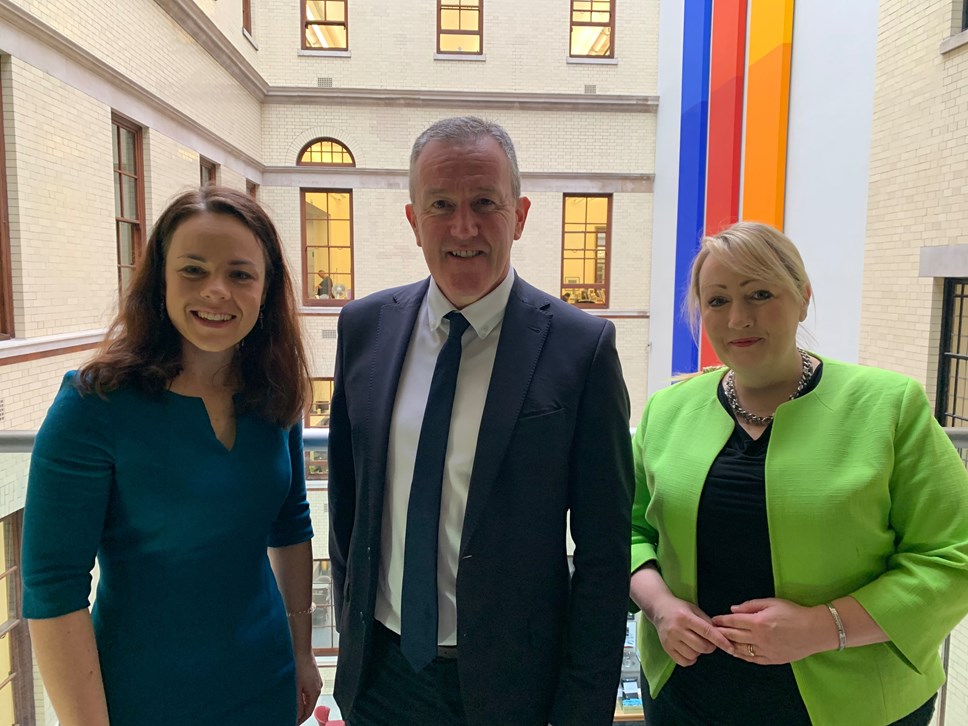 Finance Ministers call for serious engagement on UK Budget management
Finance Ministers from Wales, Scotland and Northern Ireland met together for the first time with the new Chief Secretary to the Treasury Steve Barclay in London today. With the long-awaited UK Budget just a day away the scale of change to devolved budgets was top of the agenda.
Rebecca Evans, Kate Forbes and Conor Murphy pressed for a commitment to a new level of serious engagement on UK spending decisions that impact upon the devolved regions, in particular assurances that additional funding will be provided to tackle the Coronavirus crisis.
Ministers also addressed the detrimental effects that the ongoing uncertainty and late adjustments has had on their budget process and their ability to plan.
Rebecca Evans said:
"If the UK Government is serious about "levelling up" then it needs to demonstrate that in tomorrow's Budget. As things stand, our Welsh Government Budget for 2020/21 is still £300m lower than it was a decade ago.

"Whilst the Chief Secretary did not share any detail as to what to expect from tomorrow's budget, I made the case for increased infrastructure investment – particularly in rail – and greater spend on research and development to grow the Welsh economy.

"Coronavirus was also discussed and I made the case for funding based on need – particularly in the context of Wales' relatively older population and the particular impacts we are likely to see on the Welsh economy. Similarly, we discussed flooding and I pressed for additional funding from Treasury reserves to enable us to respond to the devastating impact of the recent storms in Wales."
Scotland's Finance Secretary Ms Forbes said
"In today's meeting, I urged the UK Government to deliver on the funding commitments made in the December 2019 General Election in their budget tomorrow.

"I also called for an end to the decade of austerity imposed by the UK Government and for urgent clarity on how it will guarantee that Scotland does not lose out from EU funding streams from December 2020 when the transition period ends.

"We discussed the response to COVID-19 and will continue to work constructively with the UK Government and other devolved administrations on this including consideration of the financial impact and support for affected businesses and communities."
Finance Minister for Northern Ireland, Conor Murphy said:
"Today was an opportunity along with my colleagues from Scotland and Wales to raise areas of common concern including the replacement of European funding and to impress upon the Chief Secretary that we must get the necessary funding to deal with the challenges arising from Coronavirus.

"I also took the opportunity to highlight how Air Passenger Duty is an unfair tax and a barrier to economic growth and regional connectivity, as well as raising again Confidence and Supply and New Decade, New Approach funding.

"The message today was clear – a decade of austerity has left us with significant financial challenges. Devolved Administrations must now be provided with adequate funding to deliver decent public services for the people we represent."