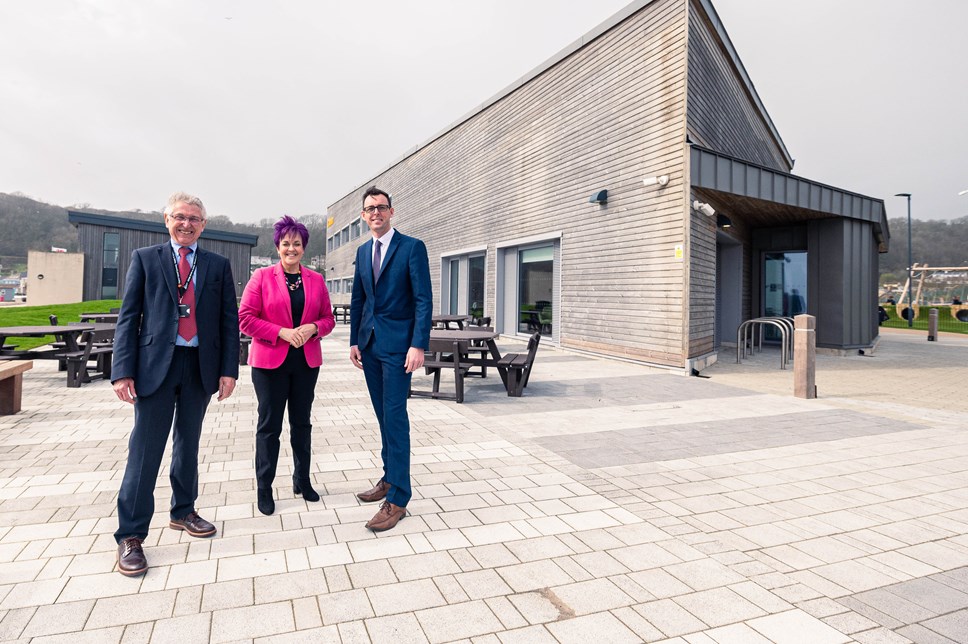 Exploring Wales this Easter
Deputy Minister for Arts and Sport Dawn Bowden is encouraging people to visit Wales this Easter, as she was the first to officially tour a new multi-million pound visitor attraction in Carmarthenshire.
The new development, which is the new home for the Museum of Land Speed in addition to a new eco holiday resort and events facility, aims to offer high-quality, year-round visitor destination facilities to maximise Pendine's heritage and its natural assets.
The new development will attract significant day visitors and night stays and be able to host major events, bringing in additional economic benefits to the area to drive forward the resort's future economic regeneration.
Deputy Minister for Arts and Sport, Dawn Bowden, who has responsibility for tourism within the Welsh Government, said:
"With the Easter holidays fast approaching, we're looking forward to welcoming visitors repeat and new, and also seeing the people of Wales discover new parts of our country. It's the perfect time to get out and explore as part of our themed year, Llwybrau. Wales, by Trails.
"It's a pleasure to be amongst the first to visit this exciting new development in Carmarthenshire, which will help accommodate 41 new jobs.
"The aim of the Tourism Attractor Destination programme is to develop projects that will raise the quality and perception of destinations in Wales, and the iconic stretch of Pendine beach is an excellent backdrop to these new developments which will benefit both residents and visitors to the area."
Cllr. Gareth John, Carmarthenshire County Council's Cabinet Member for Regeneration, Leisure, Culture and Tourism said: "It's very exciting to receive a tour of the brand new Tourism Attractor, here in Pendine.
"We have worked with the Welsh Government and other key stakeholders to deliver this excellent facility, which will enhance Pendine's reputation as an all-year-round, day-and-stay destination for visitors, accommodate 41 jobs and generate £3m per annum to the regional economy.
"I'm looking forward to seeing the doors to the Pendine Tourism Attractor officially opened during the Easter holidays and welcoming visitors to this picturesque part of Carmarthenshire."
Figures from the recent Wales Tourism Business Barometer show that 64% of businesses either had the same or more customers compared to pre-pandemic levels. It also showed that 17% of operators are 'very confident' about running their business profitably this year, and a further 50% are 'fairly confident'.
The Welsh Government continues to investment in tourism development, the Deputy Minister recently announced that £5m was being made available to National Parks and Local Authorities through the Brilliant Basics Fund.
The £50m Wales Tourism Investment Fund (WTIF), a combination of grants and loans, managed by the Development Bank of Wales, will continue to help finance capital investment in projects that grow the sector and have a positive impact on the Welsh economy.
The Deputy Minister added:
"I'm fully aware that there continues to be both short and long-term challenges for the sector. However, the Welsh Government remains committed to working with the industry to secure sustainable growth in the years ahead.
"This year, we are inviting people to experience Wales by Trails – and in the lead up to easter Visit Wales' marketing will continue to keep Wales front of mind, especially with the industry reporting a trend in much later bookings aligned to the economic climate.
"Our focus, as outlined in our tourism strategy is to spread tourism benefits throughout Wales, encouraging increased spend in our economy and tackling seasonality by promoting Wales as a nation you can visit all year round."
Notes to editors
The Museum of Land Speed and Eco-Hostel have been funded by £3m of the European Regional Development Fund (ERDF). This was provided through the Welsh Government's Tourism Attractor Destination (TAD) Programme managed by Visit Wales. The purpose of the TAD programme is to deliver an iconic tourism investment programme.
The TAD supports eleven strategic regionally prioritised tourism projects, raising the quality and perception of destinations in Wales. Welsh Government provided an additional £1.5m via Visit Wales to the Pendine Project.
ERDF Funded Tourism Amenity Investment Fund £128k for sand sport area
Welsh Government Capital Stimulus Fund £984K
The balance has been match funded by Carmarthenshire County Council