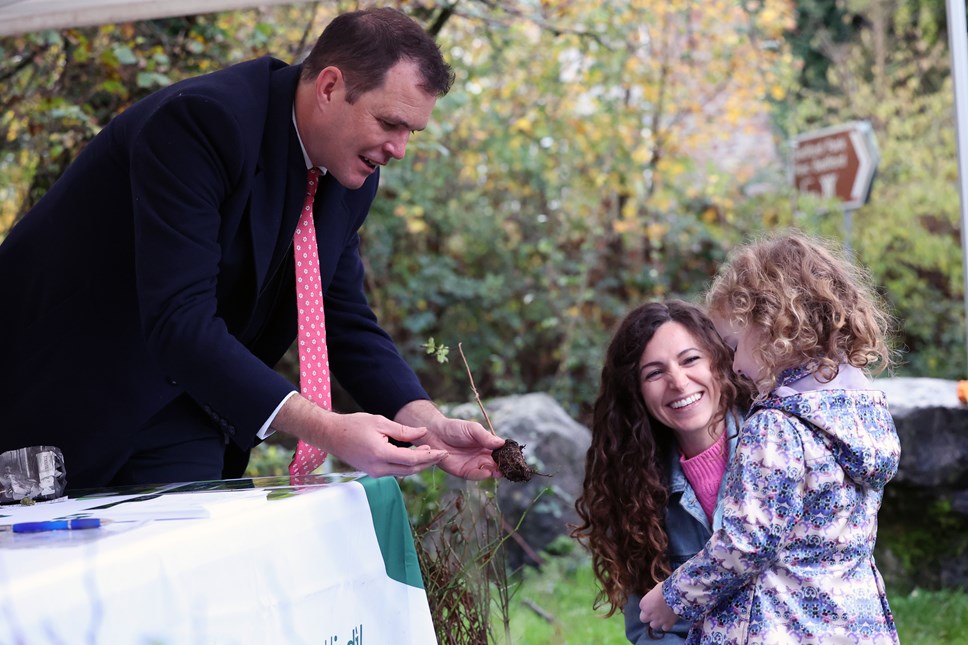 Every household in Wales can collect and plant a tree as over 50 hubs open across the country
Households across Wales can collect their tree, free of charge, from tomorrow as part of an ambitious Welsh Government giveaway to tackle the climate and nature emergencies - an initiative called My Tree Our Forest.
Over 50 collection hubs facilitated by Coed Cadw, the Woodland Trust in Wales, are set to open their doors to the public from the 19th November. Behind them is an army of dedicated volunteers ready to share expert growing advice in choosing the right tree for the right space.
A whopping 295,000 trees are up for grabs and their planting will contribute to the National Forest for Wales. Ten different species of native and broadleaf trees are available to choose from. These are: Hazel; Rowan; Hawthorn; Silver Birch; Crab Apple; Sessile Oak; Dogwood; Dog Rose; Field Maple; and Elder.
As well as sucking carbon from the air, improving our mental health and cleaning the air we breathe, broadleaf trees are a haven for birds and wildlife.
Speaking at a visit to Bedford Park in Bridgend where the first trees were being collected, Deputy Climate Change Minister Lee Waters said:
"Trees are a lifeline to us and all of the amazing life that they support. Where would our birds, insects and animals be without them… where would we be without them?

"I want everyone in Wales to check out our website to find your nearest tree giveaway hub and pick up your free broadleaf tree from tomorrow. On site, our wonderful volunteers will be ready with their expert advice to help you choose the right tree for your space and situation.

"As COP27 draws to a close in Egypt, our continued Team Wales effort in fronting up to the climate and nature emergencies is essential.

"By growing a beautiful tree in your own backyard, you can kickstart your contribution and help grow a healthy and happy Wales for us and our future generations to benefit from."
In order to become a Net Zero Wales by 2050, experts have advised that Wales must plant 86 million trees over the next decade.
"I would like to thank all involved at Coed Cadw for partnering with us to deliver this project and I look forward to seeing its impact on our environment."
Natalie Buttriss, Director of Coed Cadw said:
"Trees have always offered simple and cost-effective solutions to the challenges we all face and through the My Tree Our Forest initiative, we hope to inspire people from all backgrounds, regions and walks of life to get involved, and as a result, feel more connected to the multiple benefits that trees can bring."
Members of the Welsh public are encouraged to collect a tree, free of charge, from a regional hub near them. On collection they will receive advice from trained volunteers on how to plant and care for their new tree.
For those unable to attend a hub to collect a tree, from the 21st of November, one can be ordered online and delivered to their door. Alternatively, a tree can be planted on their behalf, helping to grow a National Forest for Wales, home by home.
To find out where your local tree giveaway hub is please visit: woodlandtrust.org.uk/wales-giveaway
Notes to editors
Videos can be downloaded here.
The first 5,000 trees were given away in March 2022 as part of a pilot before the scheme has been rolled out fully across Wales this autumn.
Hubs will open across Wales from 19th November to 18th December 2022. Tree availability and hub opening times will be regularly updated on the Coed Cadw | Woodland Trust Wales and Welsh Government social media channels. Trees will be given out on a first come, first served basis and people should check availability before travelling to collect. Hubs will reopen in the new year following a Christmas break.
Volunteers will advise on the best tree for households to collect but the species available will include: Hazel, Rowan, Hawthorn, Silver Birch, Crab Apple, Sessile Oak, Dogwood, Dog Rose, Field Maple and Elder.
About Coed Cadw, The Woodland Trust in Wales
The Woodland Trust is the largest woodland conservation charity in the UK. It has over 500,000 supporters. It wants to see a UK rich in native woods and trees for people and wildlife.
The Trust has three key aims:
protect ancient woodland, which is rare, unique and irreplaceable.
restoration of damaged ancient woodland, bringing precious pieces of our natural history back to life.
plant native trees and woods with the aim of creating resilient landscapes for people and wildlife.
Established in 1972, the Woodland Trust now has over 1,200 sites in its care covering approximately 29,000 hectares. These include over 100 sites in Wales, with a total area of 2,897 hectares (7,155 acres). Access to its woods is free, so everyone can benefit from woods and trees.
The Trust's Welsh language name, "Coed Cadw", is an old Welsh term, used in mediaeval laws to describe protected or preserved woodland.