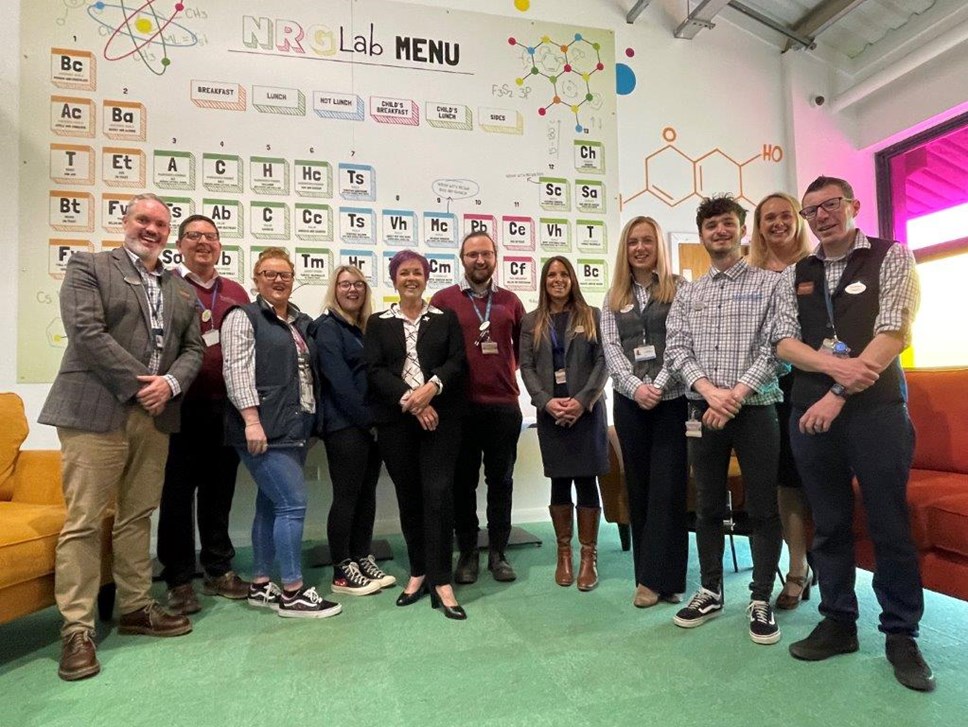 Deputy Minister praises holiday 'Experience Makers' during Wales Tourism Week
Staff who work in Wales' tourism industry play a vital role in ensuring visitors receive a big Welsh 'croeso' and return home with great memories of a wonderful experience, Deputy Minister for Arts, Sport and Tourism, Dawn Bowden said today to mark Wales Tourism Week.
As part of a series of events to mark the annual Wales Tourism Week, the Deputy Minister visited Pembrokeshire's Bluestone Resort to meet some of the staff who make unforgettable holiday experiences for visitors. The Deputy Minister also got a sneak-preview of the resort's new developments for the summer.
The Bluestone Resort, which celebrates its 15th anniversary this year, now employs more than 750 people.
In 2021 the resort launched the Bluestone Academy, which aims to inspire people to purse long-term careers in tourism and hospitality. The academy advocates for a mix of traditional and bespoke, high quality, industry-led courses delivered alongside paid work experience opportunities.
Bluestone Director of People Services, Stuart Davies-Jaynes, said:
"Our staff are integral to the success of the business and and we're extremely passionate about investing in the current and future workforce to ensure we are able to provide an exceptional service and experience for our guests.
"The Bluestone Academy is one of many ways we are able to provide employment opportunities for local people to progress their career. In the last year, we've recruited five new apprentices and applications are now open for an additional twelve placements.
"We were delighted to be able to welcome the Deputy Minister and introduce her to some of our fantastic staff who are the future of Pembrokeshire's tourism industry."
Later today, the Deputy Minister, who has recently assumed responsibility for tourism issues within the Welsh Government, will address the industry at a Wales Tourism Alliance event at the Senedd to celebrate Wales' tourism industry. Featured at the event will be films and case studies developed as part of #theexperiencemakers, which is a skills and recruitment campaign supporting the sector by raising awareness of meaningful careers in tourism and hospitality. Businesses across Wales, including Bluestone, have worked on the campaign and all the films can be viewed on the Working Wales website Work in hospitality and tourism | Working Wales (gov.wales)
Speaking ahead of the event, the Deputy Minister said:
"During Wales Tourism Week, I'd like to take this opportunity to thank the sector here in Wales. I know how hard the industry works to ensure everyone who visits Wales returns home with great memories.
"The value of the tourism sector as part of our visitor economy in Wales is recognised as a priority by the Welsh Government. More than a tenth of the Welsh workforce are employed in tourism related industries, with expenditure reaching more than £6 billion.
"I recently had the pleasure of visiting Bluestone Resort in Pembrokeshire. Speaking to the resort's staff, it is clear they see a strong future career for themselves within the tourism sector in Pembrokeshire and Wales.
"It really is amazing to hear about all the different career opportunities available to people working in Tourism and Hospitality and to talk to individuals who have progressed in their roles - they really play a special part in people's experiences of Wales."
The Deputy Minister concluded:
"We are ambitious for Wales as a tourist destination and will continue to work with communities, visitors, and businesses to achieve sustainable growth for tourism across Wales.
"It is incredibly important we continue to work together and I look forward to continuing the conversation with the sector on how we do just that, to ensure Wales continues to be celebrated as a world class tourist destination."
Notes to editors
Picture: Deputy Minister with Bluestone Resort staff.