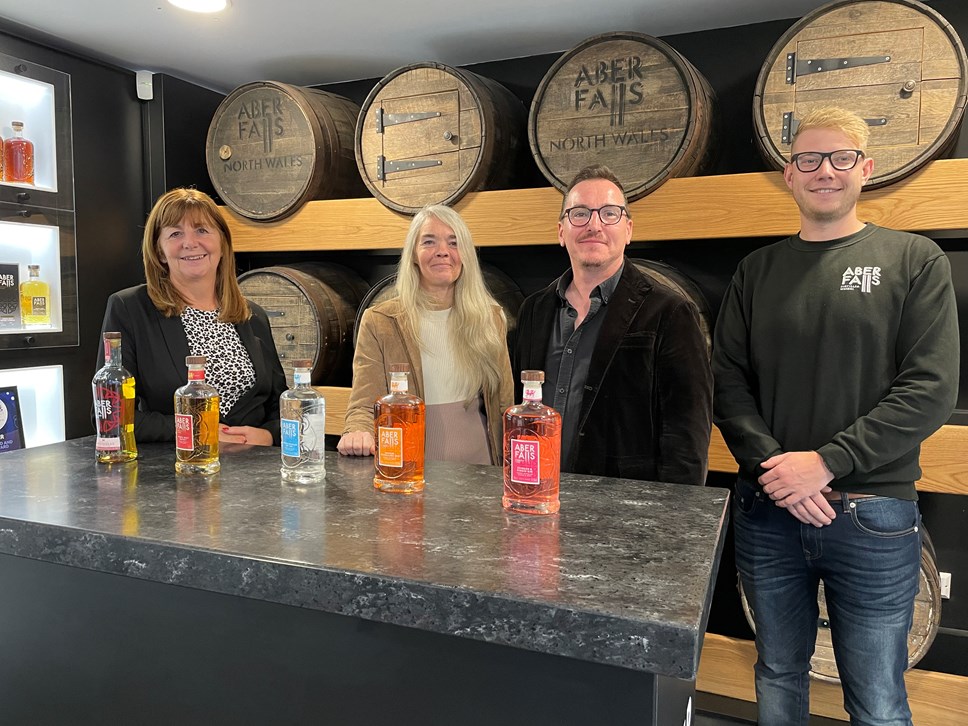 Aber Falls Distillery sees its Single Malt Welsh Whisky protected
Aber Falls Distillery in North Wales has joined the list of Welsh producers awarded UK protected status for their Single Malt Welsh Whisky.
Rural Affairs Minister Lesley Griffiths visited the company in Abergwyngregyn on Thursday to congratulate the team on gaining the prestigious status.
Single Malt Welsh Whisky is one of Wales' most popular spirits and secured PGI (Protected Geographical Indication) UK GI status in July.
The UK GI scheme was established in 2021, following the UK's withdrawal from the EU, and ensures certain food and drink products can continue to receive legal protection against imitation and misuse.
Aber Falls now joins Penderyn, In the Welsh Wind, Da Mhile, and Coles on the list of Welsh distilleries which are part of the PGI status.
The company released its first whisky in May 2021, with their current whisky being launched in the September of the same year and is now exported to 40 countries.
Aber Falls' new visitor centre opened in May 2021, offering tours and gin lab experiences, as well as having a café and a retail area.
They have since expanded the distillery in Abergwyngregyn and began 24-hour production in January this year. They also have a bottling hall in Bangor, along with three maturation warehouses in the city.
Rural Affairs Minister, Lesley Griffiths said: "It's been great to visit Aber Falls and congratulate the team on seeing their Single Malt Welsh Whisky protected.
"Wales' whisky sector has expanded quickly in recent years and is enjoyed by people around the world.
"The PGI status is a prestigious one and I am pleased Aber Falls' product is receiving the recognition it deserves."
Carole Jones, General Manager of Aber Falls Distillery, said: "It has been a pleasure to welcome the Minister and share our progress as a business. The team have worked hard over the past few months, in order for us to gain PGI status.
"Our stumbling block was the bottling process, which had been moved to England in 2022 due to issues finding staff at that time. We pulled out all the stops and re-opened our bottling hall in early September; ticking that final box.
"We are now in full swing, with our Single Malt Welsh Whisky being bottled in Bangor for our export and UK markets."
Notes to editors
Photo: Minister, Carole Jones, Dylan Roberts, Sam Foster