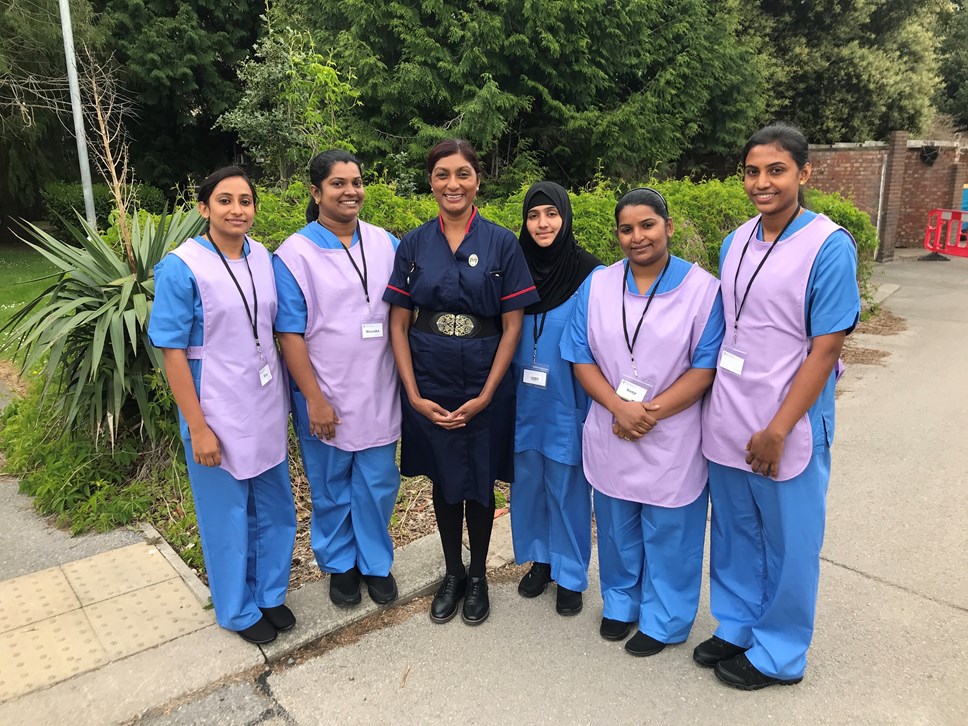 Chief Nursing Officer welcomes new international nurses to Wales
On International Nurses Day (May 12), the Chief Nursing Officer for Wales Sue Tranka has met some of the new nurses from across the world who have come to work in Wales.
International nurses have been part of the NHS since its inception in 1948 and continue to play a vital role.
More than 400 nurses from all over the world are expected to come and work in Wales this year through a new programme.
Sue also joined the other UK chief nursing officers to launch the Here for Life campaign, which showcases the skills, knowledge and professionalism of nurses and midwives and aims to attract more people to join the profession.
She said: "Retention, attraction, recruitment, development and training are key to ensuring we have the nursing workforce we need. As well as recruiting through our Train, Work, Live campaign we have increased training places for nurses in Wales by 69% over the last six years.

"International Nurses Day is an opportunity to highlight the great work nurses do every day all over Wales and what a rewarding profession it can be."
The CNO met five internationally-trained nurses who have just joined Aneurin Bevan University Health Board. It was a poignant meeting for Sue, who joined the NHS as a nurse in 1999 at Sunderland Royal Hospital via a similar international programme.
"It was very special to meet the new nurses today, especially as I joined the NHS in a similar way. I know they will be full of excitement about their new opportunities, and I wish them well in their new career and life in Wales.

"I know first-hand that NHS Wales will very much welcome them with open arms - just as I've had a really wonderful welcome since joining as CNO last year."
The Welsh Government is working with NHS Wales Shared Services Partnership and NHS Wales to deliver the international recruitment programme. NHS Wales is committed to upholding ethical standards in international recruitment, in conjunction with the World Health Organisation's global code of practice.
Here for Life will highlight the incredible, and often life-long, commitment of nurses and midwives to their professions, as well as the huge admiration the public has for them. A recent survey carried out highlights deep respect for nurses and midwives, with the COVID-19 pandemic placing nursing and midwifery in the spotlight as never before.
Sue added: "I'm very proud we're launching Here for Life, as nurses and midwives play a vital role in health and care and it's important we showcase all they do. We know nurses and midwives are highly regarded but we want to ensure people understand both professions and they get the full recognition they deserve.
"Nurses and midwives have played a pivotal role during the pandemic and vaccine rollout. It truly is a privilege to be the chief nursing officer for Wales, working with nurses and midwives daily and seeing first-hand the amazing care and support given to the people of Wales."
Minister for Health and Social Services Eluned Morgan added: "On International Nurses Day, I want to pay tribute to nurses and midwives working across Wales. I thank them for everything they've done during the pandemic and continue to do.

"I also extend a warm Welsh welcome to the newly-recruited nurses joining NHS Wales. It is fantastic that they have chosen Wales as their new home. More than 400 international nurses will join us this year and will play a key role in the NHS as we look to the future.

"Overseas recruitment is one of a range of actions we are taking to support the health and care workforce across Wales as we deal with the ongoing impact of the pandemic.

We have recently announced the extension of the NHS bursary and the Chief Nursing Officer has announced her priorities and collective vision for the professions which include supporting and retaining our workforce as well as attracting people through the range of flexible routes into the professions."
Notes to editors
Associate Professor Julia Terry is showing her support for the Here for Life campaign and is happy to be interviewed, read more about Julia here https://herefor.life/julia
A survey of 2,000 adults from across the UK1 shows that while the majority of people admire nurses and midwives, and many people would consider being one, fewer people understand the responsibilities these roles entail and the opportunities they offer. The campaign aims to support people to learn more about what nursing and midwifery means in today's world.
Key results include:
Nursing is considered one of the top three most important professions in the UK - with doctors and firefighters also featuring in the top three.
Nine in 10 (89%) of people in the UK admire nurses and 31% of people would consider becoming one. A quarter (26%) of people would think about being a midwife.
Only 15% of people associate nurses with making decisions about diagnosis and treatment and just 5% know they are involved in researching new treatments and therapies.
Only half (53%) know that some nurses can prescribe drugs and over a third (37%) are unaware that nurses lead other teams of professionals.
61% of people believe midwives play a support role to doctors when delivering babies, when often midwives play the leading role in delivery in almost half of all births (47.5%)3.