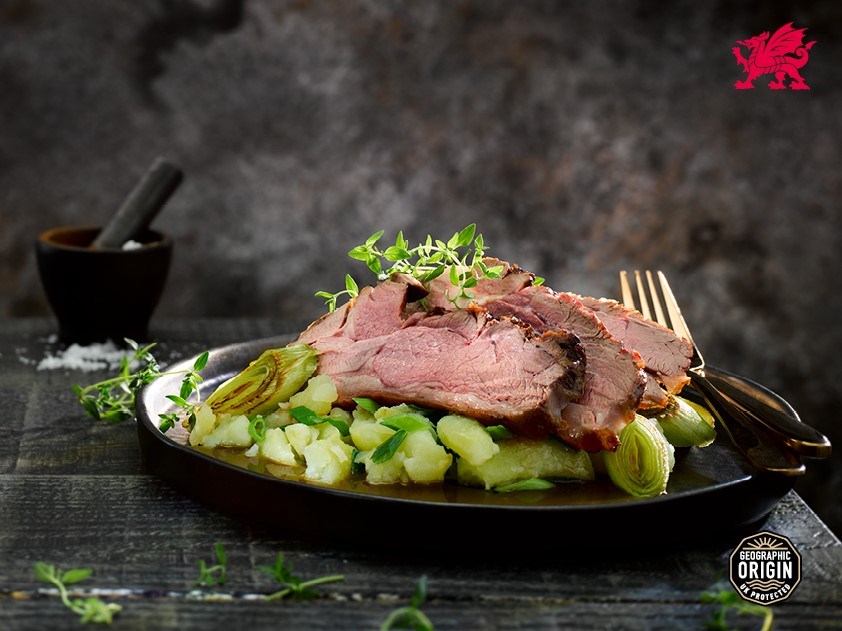 Cambrian Mountains Lamb awarded UK GI Status
Cambrian Mountains Lamb is the second new Welsh product to be awarded the highly sought after UK Geographical Indication (UK GI) status, hot on the heels of Gower Salt Marsh Lamb which won the accolade last month.
Rural Affairs Minister Lesley Griffiths has welcomed today's news and congratulated the producer group on their achievement.
From today, only legitimate 'Cambrian Mountains Lamb' from the region can be sold with the UK GI seal of approval.
The application for UKGI status was supported by the Welsh Government via their Welsh GI contract, which is delivered by Menter a Busnes and was made on behalf of the Cambrian Mountains Lamb Producer Group.
The Lamb group was originally brought together by the Cambrian Mountains Initiative, a project inspired by HRH The Prince of Wales to help sustain traditional Welsh upland farms and rural communities.
This support was essential in ensuring the success of the application.
Rural Affairs Minister Lesley Griffiths said: "This is great news today and I want to congratulate the producer group on their success and welcome them into the Welsh GI family.
"Their wonderful product is another example of the iconic food and drink Wales has to offer.
"There are several other exciting Welsh food and drink products currently applying for the UK GI status and I look forward to seeing the Welsh GI family continuing to grow."
Huw Davies from Aberdauddwr Farm and a member of the producer group said:
"We are really pleased to achieve this UK GI status; in recognition of the unique product, we produce in these hills which is the 'Cambrian Mountains Lamb'. Having UKGI status, I hope the consumer will be able to enjoy Cambrian Mountains Lamb for many years to come."
Cambrian Mountains Lamb is a seasonal product. After a winter in the valley, the lambs are shepherded up to the hills for the long summer grazing on natural pastureland rich in varied grasses and herbs. This contributes to the taste of Cambrian Mountains Lamb and produces a lighter weight hill lamb.
In addition to the lambs' natural diet, they are produced exclusively from ewes that are predominantly either Welsh Mountain or from other traditional Welsh native hill breeds. This makes for slower maturing lamb which gives more time for its "delicate and sweet" flavour to develop.
Notes to editors
NOTES
The Cambrian Mountains area stretches over 10% of Welsh land. It is a very sparsely populated area in central Wales, famous for its desolate, historic landscape and for its natural habitats. Land cover is dominated by a mix of blanket bog, heath and semi-natural grassland, and a high proportion of the area is recognized to be of European importance for nature conservation. Producing lambs in this environment is challenging and requires specific skills, knowledge and traditions which have been passed down through the generations. Shepherding is a feat in itself, as it takes place over vast expanses of open rough terrain.
ABOUT UKGI STATUS
The UK GI Scheme was introduced on the 1.1.2021 in GB after leaving Europe.
There are three designations under the UKGI Scheme umbrella:
Protected Designation of Origin (PDO)
Protected Geographical Indication (PGI)
Traditional Speciality Guaranteed (TSG)
Wales now has a Welsh GI family with 18 products having GI status including; -
PGI Welsh Beef
PGI Welsh Lamb
Pembrokeshire Earlies PGI
Anglesey Sea Salt PDO
Conwy Mussels PDO
Carmarthen Ham PGI
Traditionally Reared Pedigree Welsh Pork TSG
West Wales Coracle Caught Salmon PGI
West Wales Coracle Caught Sewin PGI
Welsh Laverbread PDO
Traditional Welsh Perry PGI
Traditional Welsh Cider PGI
Welsh Wine PDO
Welsh Regional Wine PGI
Traditional Welsh Caerphilly PGI
The Vale of Clwyd Denbigh Plum PDO
Gower Salt Marsh Lamb PDO
Cambrian Mountains Lamb PGI
There are also several Welsh products applying for UK GI status. For further information on Welsh GIs please email.UKGI.Wales@gov.wales UKGI.Cymru@llyw.cymru. Or visit the WG GI page
https://businesswales.gov.wales/foodanddrink/how-we-can-help/new-uk-geographical-indication-gi-schemes-0