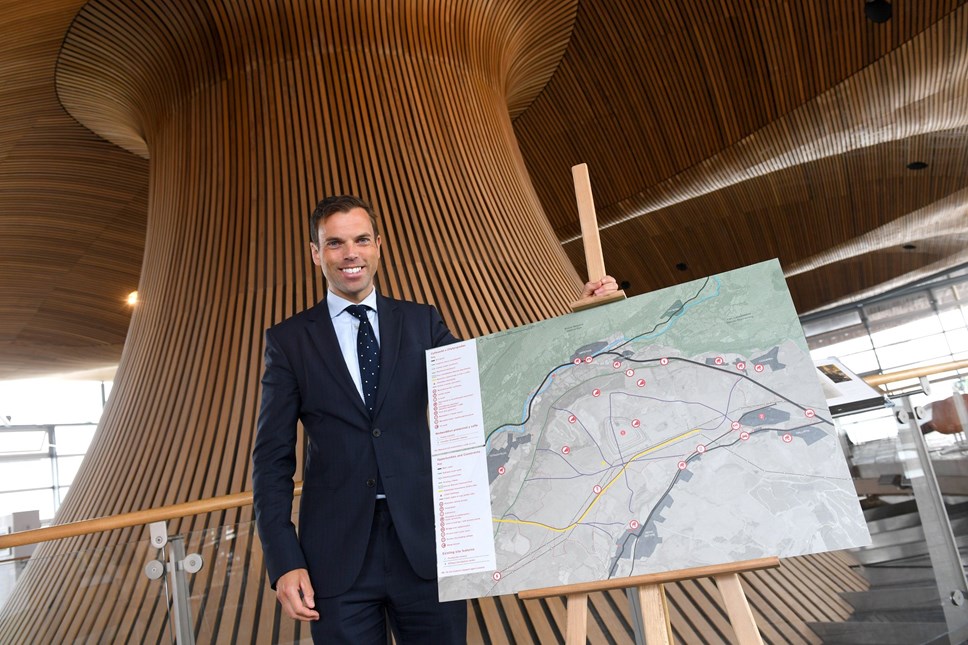 Call for UK Government to play its part as Global Centre of Rail Excellence moves closer with business case and initial planning consent
Plans for a world leading rail testing centre in South West Wales have progressed further, with the submission of an Outline Business Case as well as local approval for the land.
The Welsh Government has now called on the UK Government to "act at speed to play its part" in the delivery of the project.
On 27th and 28th July Powys County Council and Neath Port Talbot approved consent for the earthworks for the Global Centre of Rail Excellence, to be built at the mothballed opencast mine at Nant Helen and the nearby coal washery site at Onllwyn.
It is another step forward for the project after, earlier this month, the Welsh Government submitted the Outline Business Case for the Centre to the UK Government. The document set out the delivery programme and next steps.
Ken Skates, Minister for Economy, Transport and North Wales, commented:

"This project goes hand in hand with improving the efficiency, performance and capacity of our railways. It has been developed following a clear need identified by the rail industry.

"There will also be important benefits for the communities that surround the planned facility. Jobs will be brought to the area and the project can be an important part of the long-term economic recovery from Covid-19.

"This has been a positive month for the project and the initial local approval is a positive step. Following this I now hope the UK Government will act at speed to play its part in delivering something that will benefit both Wales and the United Kingdom."
Notes to editors
The Global Centre for Rail Excellence would create a world leading facility for research, development and testing of rail technology in South-West Wales. Planned benefits include cost savings to the UK rail sector, reducing disruption and enhancing benefits for passengers.
It would also bring jobs and economic development to the surrounding communities, both in the construction phase and through the establishment of long-term high quality jobs.
Facilities at the centre would include:
A 6.9km, 110mph Rolling Stock Test Oval, with overhead line electrification
A tunnel for high pressure testing
A 4.5km High Tonnage Infrastructure Test loop
A platform and station environment
Research and development, education and training facilities
Staff facilities and overnight accommodation
The combination of physical infrastructure and digital data driven capability would help make it unique in the UK and Europe, and one of the most advanced facilities of its type in the world.
The planned 3-stage construction programme would see Phase 1 operational by 2023, and the site fully complete by 2025.