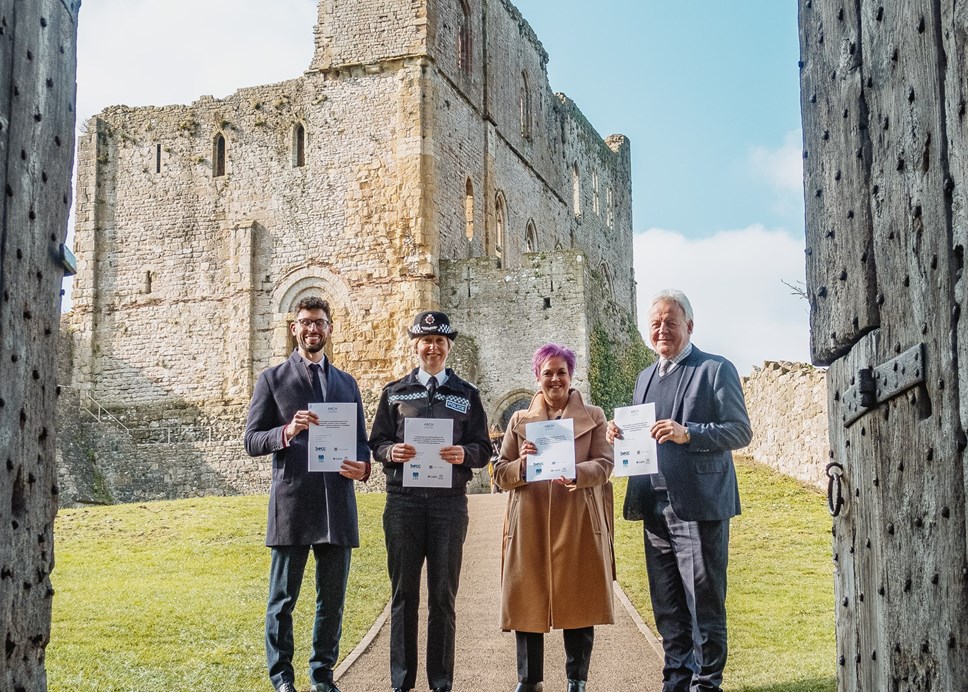 Cadw joins forces to tackle heritage crime in Wales
The Welsh Government's historic environment service, Cadw is joining forces with the police and other agencies to tackle heritage and cultural property crime in Wales, Deputy Minister for Arts and Sport, Dawn Bowden has today confirmed.
The new partnership will see Cadw join with the National Police Chiefs' Council, Crown Prosecution Service and Historic England as part of ARCH - Alliance to Reduce Crime against Heritage. The joint initiative is set to systematically tackle and reduce offences such as architectural theft, including the theft of metal and stone, criminal damage in particular vandalism, graffiti and arson, unlawful metal detecting and anti-social behaviours such as vehicle nuisance and the dumping of waste.
The Deputy Minister has today, at Chepstow Castle, signed a memorandum of understanding with the partners involved in the initiative.
Recent developments have included:
Dedicated Heritage Crime Liaison Officers have been established in police forces across England and Wales.
Revised sentencing guidelines have been published so that Courts can recognise the aggravated impact of offences on heritage and cultural property assets.
Data collection and intelligence gathering have been improved, with the establishment of a dedicated Heritage and Cultural Property Crime Intelligence Analyst.
And many Heritage Watch schemes, which harness the passion for heritage in communities, local authorities and national parks, have been launched.
Deputy Minister for Arts and Sport, Dawn Bowden, said: "The fight against heritage crime requires strong collaboration between the police forces in Wales, Crown Prosecution Service and Cadw.
"We take heritage crime very seriously in Wales. Our historic environment and cultural heritage are precious and irreplaceable – we protect them for the benefit of people today and for our future generations. I welcome the extension of this important collaborative initiative into Wales, and I look forward to the positive impact that it will have here."
Duncan Wilson, Historic England Chief Executive said: "We welcome our colleagues from Cadw as signatories to the memorandum. Since the signing of the original memorandum, significant progress has been made to prevent and investigate crime and anti-social behaviour affecting the historic environment.
"This progress has been made possible by the development of a robust, committed and effective partnership between Historic England, the National Police Chiefs' Council, the Crown Prosecution Service and the thousands of people who own and care for our historic buildings and archaeological sites.
"Heritage crime robs us of our collective history and today's event marks the next stage in our commitment to tackle it, wherever it occurs."
Deputy Chief Crown Prosecutor Paul Stimson, CPS lead for heritage and wildlife crime, said: "I welcome any opportunity to work closely with our partners and this memorandum is a perfect example as we extend it into Wales. We have a duty to protect our heritage sites and the CPS will play its part. Where an offence against a heritage asset has been committed, we will not hesitate to prosecute whenever our legal test is met."
Assistant Chief Constable Rachel Nolan, lead for the National Police Chief's Council (NPCC) Heritage Crime Portfolio, said: "This brings some of the key organisations closer together in the joint fight against Heritage Crime. It assists us with protecting our historic environment and to pursue offenders that are involved in stealing or damaging heritage assets."
New legislation, The Historic Environment (Wales) Bill, is in its final stages of passage through the Senedd. When it becomes law, this consolidated legislation will replace the existing Acts for the protection of monuments, listed buildings and conservation areas in Wales. It will provide a new accessible, fully bilingual restatement of the existing laws, which will make them easier to understand and use for the better protection of the Welsh historic environment.
In the meantime, Welsh Police Forces will be pursuing the consistent approach to policing heritage crime demonstrated by the launch of Operation Heritage Cymru last year. This aims for greater consistency across Wales, particularly in crime reporting, building knowledge and raising public awareness. Cadw is supporting this initiative by providing training and specialist support to officers investigating heritage crime cases.
Notes to editors
The original memorandum of understanding on heritage and cultural property crime was first signed between English Heritage, the Crown Prosecution Service, and the Association of Chief Police Officers in 2011.
This new memorandum extends the provisions to Wales, updates the commitments, and includes anti-social behaviour for the first time.
What is Heritage Crime?
Heritage and cultural property crime is defined as 'Any offence which harms the
value of England and Wales's heritage assets and their settings to this and future
generations and includes all offences involving cultural property.'
Heritage assets in England and Wales include:
Listed buildings;
Scheduled monuments;
Protected marine wreck sites;
Protected military remains of aircraft and vessels of historic interest;
Known battlefield locations including registered battlefields;
Registered parks and gardens;
Conservation areas;
World Heritage Sites; and,
Undesignated but acknowledged heritage buildings and sites.