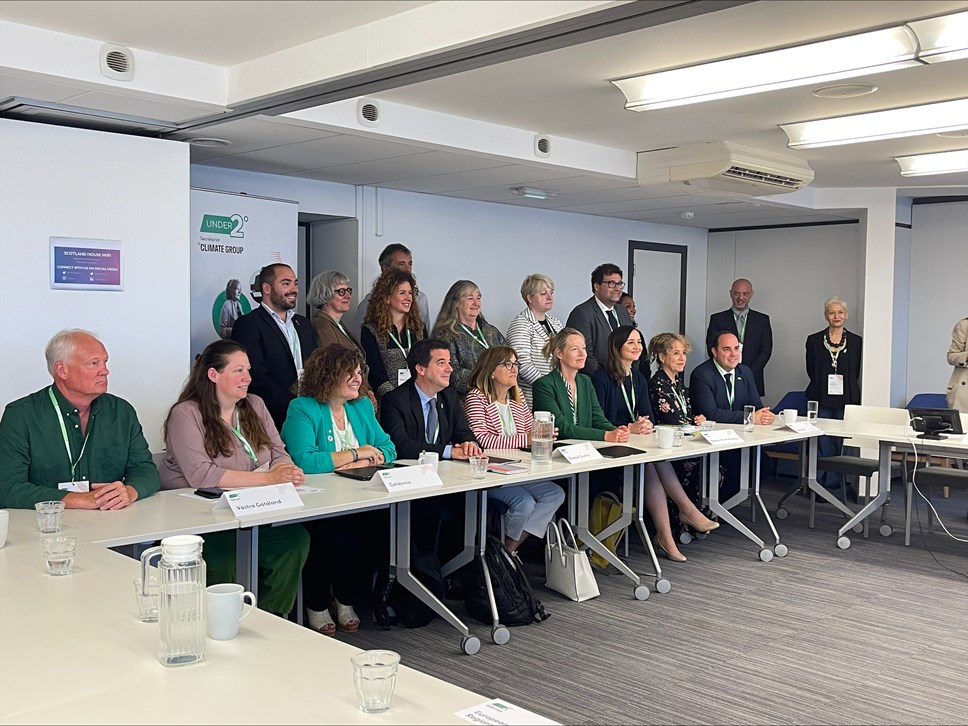 Building momentum in the global fight against climate change
"The wealth of knowledge and expertise throughout these states and regions is huge and gives me hope we can fight against climate change and set the global path to zero emissions by 2050."
Those were the words of Climate Change Minister Julie James after attending an Under2 Coalition's ministerial meeting in Brussels to advocate for greater subnational involvement in international climate processes.
Taking place six months prior to COP 28 in Dubai, the meeting provided an opportunity for regions to come together to demonstrate their collective power and to reflect upon state and regional engagement with national, EU and international climate processes.
Wales was a founding member of the network, which has now grown to 167 individual states, totalling more than 50 per cent of global GDP with states and regions from all over the world including California, Quebec, South Australia, São Paulo. West Bengal and KwaZulu-Natal.
This meeting focused on European members including Wales, Andalusia, Baden-Württemberg, the Basque Country, Catalonia, Emilia-Romagna, Lombardy, Navarra, North Rhine-Westphalia, Scotland and Västra Götaland.
The event in Brussels was an opportunity to discuss state and regional cooperation with national governments and also to understand the climate priorities and mandate of the Spanish Presidency of the Council of the EU in the run-up to COP 28.
It was also a chance to mark the Under2 Coalition's renewed partnership with the EU Committee of the Regions.
Climate Change Minister Julie James said: "The Under2 coalition shows the power of governments at all levels working together to drive international action.
"Through Under2 we can show leadership and build the momentum needed to make a difference at home and internationally in our fight against climate change.
"The latest IPCC report gave us a stark message about the impacts of climate change, which are going to be felt at the local level by local people. The people that we represent.
"We need to involve people in the actions that we all collectively need to take, in the way we design our energy systems, grow our food, live in our homes, transport our goods and services and the business we work in.
"As highlighted by the Glasgow Climate Pact and the Sharm el-Sheikh Implementation Plan's urgent multilevel and cooperative action is needed and States and Regions are instrumental to all of this and often the ones that are at the forefront.
We believe the actions that Wales and other members of these networks take can create pressure to bring about change at the global level, demonstrating what is possible.
"The formal COP process is an opportunity for states and regions to have the recognition they deserve as crucial actors in the fight against the climate crisis.
"Through the international coalitions of which we are a part we have drawn inspiration and encouragement, and we have seen real interest in the actions being taken in Wales, to oppose the extraction of fossil fuels, shift infrastructure investment and pursue recovery of our natural carbon stores. .
"Collectively the wealth of knowledge and expertise throughout these states and regions is huge and gives me hope we can fight against climate change and set the global path to zero emissions by 2050."