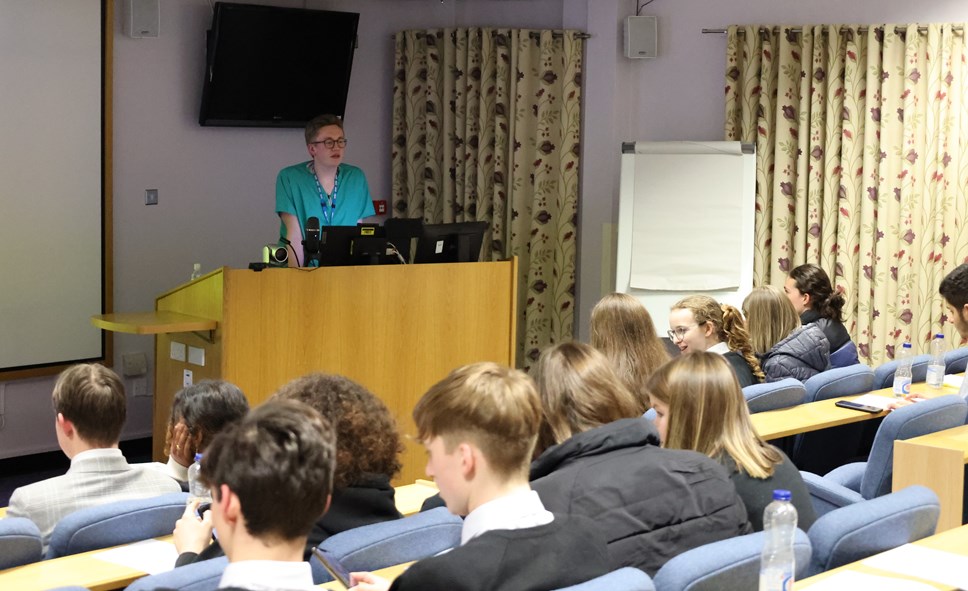 Budding medics thriving in north Wales
The Seren Medics programme, which helps school-age children go on to study Medicine at university, is enjoying excellent results in north Wales.
Since 2016, medical professionals at Ysbyty Glan Clwyd and Ysbyty Gwynedd have worked with Year 12 and 13 pupils from local state schools to help them with their Medicine and Dentistry university applications.
The initiative has led to hundreds of students from north Wales successfully applying to study Dentistry or Medicine at university. The programme has returned to face-to-face learning this school year. In 2019, the last school year before the pandemic, 100% of learners who completed the programme received an offer to study Medicine at university.
This year, 40 Year 12 students have enrolled at the programme at Ysbyty Glan Clwyd. The programme has also been expanded to Flintshire and Gwynedd, with a programme for prospective Dentistry students now delivered across north Wales too.
Young people on the scheme attend up to 15 sessions per year, plus a week of work experience, designed to support them with their applications for Medicine or Dentistry degrees. The activities include group work, lectures, mock tests and interview practice.
Several dozen volunteers give their time to support the programme, including consultants, medical students and administration staff.
Seren is a Welsh Government initiative to help Wales's brightest state-educated learners achieve their full academic potential and enter leading universities in Wales, the UK and overseas. Around 22,000 learners in years 8 to 13 are currently participating in Seren. In 2022, half of all participants went on to study a science, technology, engineering or mathematics, or 'STEM' subject at university.
The Minister for Health and Social Services, Eluned Morgan, said:
"It's brilliant that clinicians are passing on their knowledge and passion for medicine on to young local people.
"This is a fantastic example of how clinical staff can work with the local community to share their expertise with young people, many of whom I hope will go on to practice in north Wales. I'm also looking forward to the Seren Medics programme working with other health boards across Wales.
"I would like to thank all of the volunteers, staff and patients for giving their time to inspire the medics of the future."
Jeremy Miles, the Minister for Education and Welsh Language, added:
"Seren is a fantastic scheme which has had tremendous success in helping our brightest young people get into some of the best universities in the world.
"This is a great example of how our Seren programme is not only helping young learners flourish, it's providing a real benefit for local communities by helping to nurture the doctors and dentists of the future.
"We will always need highly skilled medical professionals and this is a great way to help our brightest learners get onto the best degree programmes and into rewarding careers in medicine."
Dr Dan Menzies, a respiratory consultant at Ysbyty Glan Clwyd, said:
"The scheme has been going since 2016-17, when my colleagues and I were keen to support local children who wanted a career in medicine. We realised there was a gap between the opportunities for children attending private schools and local comprehensives and we saw this programme as a way of closing the gap.
"This programme is delivered by our junior doctors out of goodwill and altruism - we have senior doctors helping junior doctors, together helping the doctors of the future.
"It's fantastic to see the young people blossom and we really want them to achieve all they are capable of."
Notes to editors
Contacts
For further information, please contact matthew.morris@gov.wales (Welsh Government) or Jez.Hemming@wales.nhs.uk (Betsi Cadwaladr University Health Board).
The Seren programme
The Welsh Government's Seren Programme supports state educated learners who are highly able and talented to achieve their full academic potential.
22,256 learners in years 8-13 are being supported through the Seren programme this academic year (2022-23). 3,165 Seren of those learners are in Year 12, being accepted onto the scheme based on achieving 6A* GCSE grades or a minimum of 5A*/A grades and exceptional aptitude in a specific subject.
Widening Access to Medicine (WAM) programme at Ysbyty Gwynedd, Ysbyty Glan Clwyd and Ysbyty Maelor
The core offer is a series of up to 15 events per year, plus a week of work experience, designed to support Y12/Y13 students in their application to medicine or dentistry degrees.
The events involve small group work, lectures, mock tests and interview practice, supported by home assignments.
The programme is underpinned by substantial course information and handbooks for both students and faculty, making it replicable anywhere in the country. Since 2020, the entire syllabus is available online via Microsoft Teams.
Several dozen volunteers give their own time to support the programme: Cardiff and Bangor medical students, training doctors, consultants, and admin staff from postgraduate centre and clinical school. The programme consists of three integrated parts, all run within the hospital:
Study programme
Year 12 (post-GCSE) evening events: Nine two-hour evening sessions January to March. Activities include ethics workshops, history-taking with patients, an essay assignment, clinical simulation activities, and support with the UCAT exam (a prerequisite for a medicine application).
Year 12 work experience week: During July, students are embedded within the hospital for a week to observe clinical activities, gain further insight into medical careers, and sit a mock UCAT exam.
Year 13 evening interview practice: Seven evenings from September to November. Students from the previous year who wish to progress with their medical application are given interview practice.