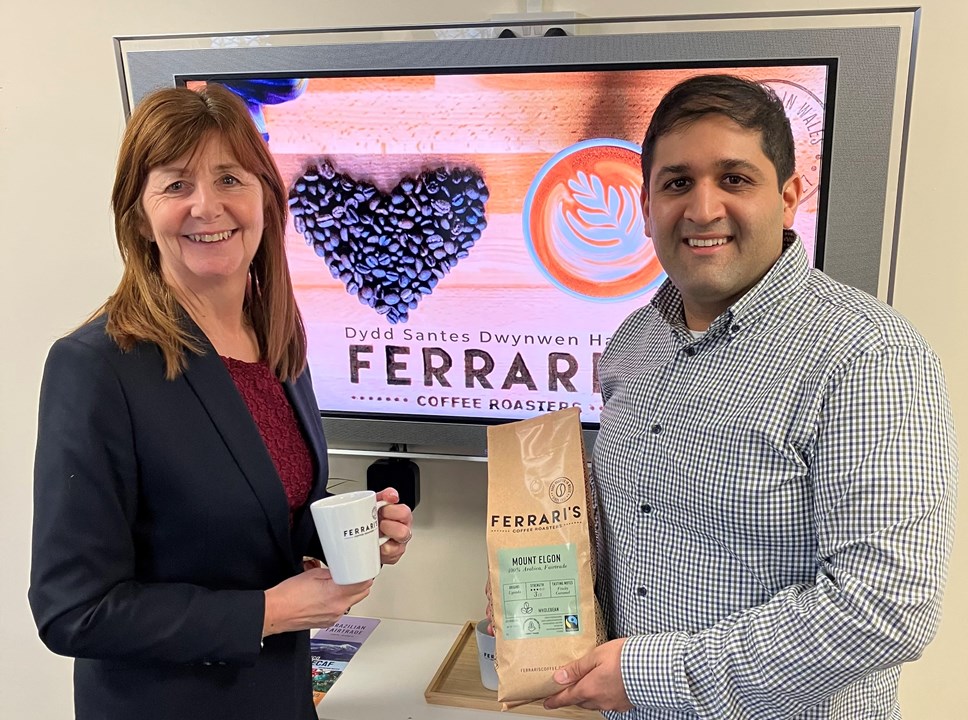 Brew-tiful! Welsh coffee company secures new USA and Canada contract
Rural Affairs Minister Lesley Griffiths has congratulated Ferrari's Coffee in Bridgend after the company secured a new contract which will see their products available in the USA and Canada.
The Minister visited their facilities and heard how Welsh Government support has helped the company secure a significant deal to supply three of its products to a major retailer across the Atlantic.
The news comes as the Welsh Government recently announced exports by businesses in Wales have recovered beyond pre-pandemic levels. The Welsh Government remains steadfast in its ambition to drive further growth in Welsh exports.
Ferrari's secured their deal at SIAL Paris, one of the world's largest food innovation exhibitions in Paris in October. Attending as part of the Welsh Government Pavilion, Ferrari's Coffee were amongst the Welsh producers taking the opportunity to meet with buyers and distributors from across the globe looking to secure new business opportunities.
One of the products making its way to the USA and Canada is the 'Piacentia' which is the company's original recipe and has stayed the same for nearly 90 years. The other two products are the 'Siena' and 'Mocha Italia' coffee beans.
Yash Dhutia, Managing Director of Ferrari's Coffee said: "We're thrilled to receive this overseas contract to supply our coffee in the USA and Canada after meeting with a buyer from a major retailer at SIAL.

"It's a huge boost of confidence for us as a company and we are grateful to the Welsh Government for their support. In reality, we wouldn't have attended the event without their assistance."
Yash Dhutia, along with his wife and children moved to Wales and bought Ferrari's Coffee in August 2018, but have kept the same sourcing and roasting traditions set out by the company's original founder Vittorio Ferrari. The company has been hand-roasting coffee in Wales since 1927.
At SIAL, they showcased their new 100% recycled packaging and new recyclable bags. Ferrari's also have a direct trade agreement with farmers in Uganda who are an important part of the Mbale Tree planting Programme, supported by the Welsh Government, which hopes to plant 25 million trees by 2025.
Rural Affairs Minister, Lesley Griffiths said: "This is a great achievement for Ferrari's Coffee and I am delighted the Welsh Government's Food and Drink International Trade Programme has been able to support them.

"We all know the quality of food and drink produced by Welsh businesses is up there with the best in the world and we need to ensure it is rightly recognised.

"Securing new export markets, as well as maintaining and building on current ones, is crucial for the future of the Welsh food and drink industry.

"I am proud to support our Welsh food and drink producers at our global events which reaffirms our commitment to raising our international profile and supporting our businesses."