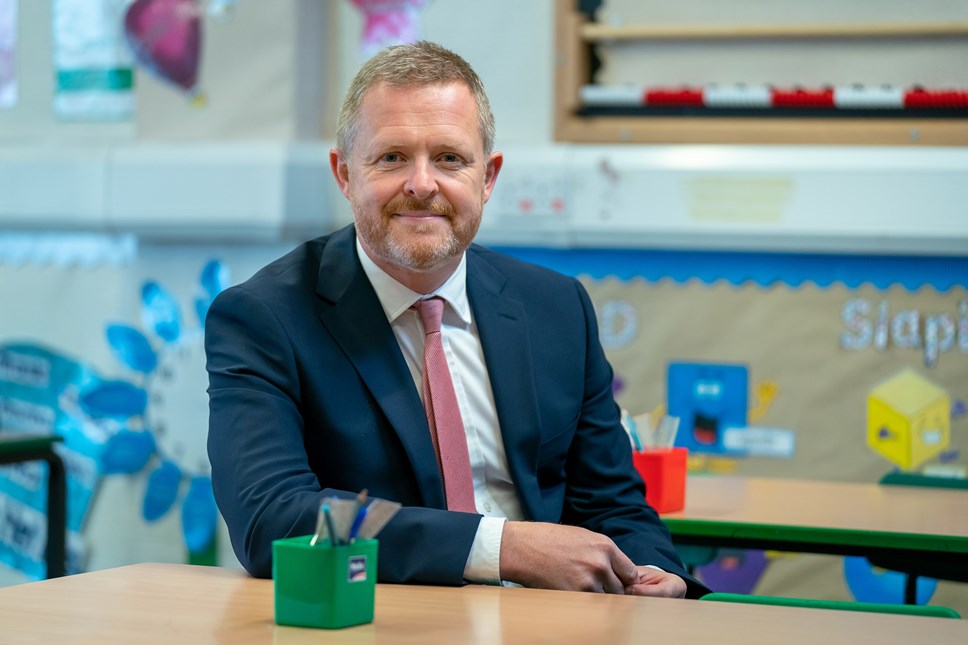 All new schools and colleges in Wales to be net zero carbon
Education and Welsh Language Minister Jeremy Miles has today announced that all new school and college buildings, major refurbishment and extension projects will be required to meet Net Zero Carbon targets from January 1 2022.
Buildings will be required to be Net Zero Carbon in operation, which means producing zero or negative carbon emissions as part of their operational energy.
The first generation of schools and colleges under the new rules will also be required to demonstrate a 20% reduction on the amount of embodied carbon, which is the carbon emitted through construction materials and the construction process, with further reductions required in future, in line with the Welsh Government's broader net zero carbon plans.
New proposed buildings will also include ambitious plans for biodiversity, active travel and electric vehicle charging facilities.
The announcement will help the Welsh Government achieve its commitment to becoming a net zero carbon nation by 2050.
Jeremy Miles visited the site of the new Llancarfan Primary School in the Vale of Glamorgan. Due for completion in early 2022, Llancarfan Primary will be the first Net Zero Carbon school in Wales, with its own on-site power generation and battery storage.
Jeremy Miles said:
"We should all be asking ourselves what we can do to help reverse the damage caused by climate change. With Llancarfan, we are already delivering the first Net Zero Carbon school. Making sure our future buildings contribute positively is a significant step we can take.
"At the heart of our new curriculum is our aim to support learners to become ethical, informed citizens, who are committed to the sustainability of the planet. It's essential we set an example to young people if we are to realise this ambition."
Cllr Lis Burnett, Deputy Leader of the Vale of Glamorgan Council and Cabinet Member for Education and Regeneration, said:
"We are incredibly proud to be opening Wales' first net zero school here in the Vale.
"Climate change is a huge challenge globally, and one that we all must take action to address. Having declared a climate emergency in 2019, we have since put in place Project Zero, our plan for the Council to become carbon neutral by 2030. This building represents a significant step towards achieving our vision.
"It has been designed not only to provide a building that reduces our carbon output but one that will provide a first class learning environment in which future generations can learn how to reduce theirs."
The new Net Zero Carbon requirement will become part of the of Welsh Government's flagship 21st Century Schools and Colleges programme. From January 1 2022, the programme will be known as Sustainable Communities for Learning. Working in partnership with local authorities, the Welsh Local Government Association, colleges, Colleges Wales and Diocesan directors, it has supported the delivery of 180 new or improved school and college projects so far.
Notes to editors
Notes for editors
The new requirements will come into force on 1 January 2022 and will apply to all business case proposals that have not received approval at Outline Business Case (OBC) stage by 1 January 2022.
Net Zero Wales, the Welsh Government's plan towards tackling climate change, published last Thursday (28th October) includes a proposal that "All future public sector properties being built or undergoing major refurbishment achieve a Net Zero Standard by 2030."
Learning about climate is mandatory in the new Curriculum for Wales, due to begin being taught in schools from September 2022. The Humanities and Science and Technology Areas of Learning and Experience include climate and the environment, to ensure learners engage with issues such as the nature emergency.
Net Zero Wales is our second emissions reduction plan, setting the foundations to make Wales net zero by 2050.
Net Zero Carbon (in construction) - definitions
The Welsh Government's Buildings Decarbonisation Task and Finish Group has developed a definition, based on the industry recognised Green Buildings Council UK: Net Zero Carbon Buildings – A Framework Definition, as summarised below:
Net zero carbon – operational, when the amount of carbon emissions associated with the building's operational energy on an annual basis is zero or negative. A net zero carbon building is highly energy efficient and powered from on-site and/or off-site renewable energy sources, with any remaining carbon balance offset.
Net zero carbon – construction (typically referred to as Embodied energy/carbon), when the amount of carbon emissions associated with a building's product and construction stages up to practical completion is zero or negative, through the use of offsets or the net export of on-site renewable energy.
Net zero carbon – whole life, when the amount of carbon emissions associated with a building's embodied and operational impacts over the life of the building, including its disposal, are zero or negative.
The Welsh Government's legally binding commitments for decarbonisation are:
Carbon Budget 2 (2021-25): 37% average reduction with a 0% offset limit.
Carbon Budget 3 (2026-30): 58% average reduction.
2030: 63% reduction.
2040: 89% reduction.
2050: at least 100% reduction (net zero).