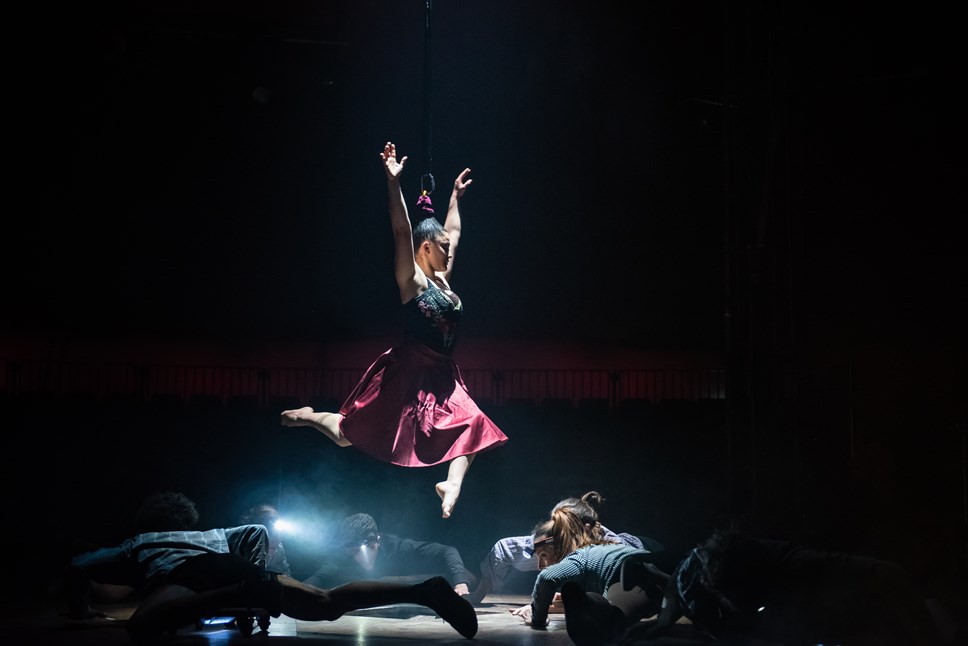 A world-renowned circus and international crime fiction festival heading to Wales in 2023
A world-renowned contemporary circus is heading to Swansea while an international crime fiction festival will be held in Aberystwyth in 2023, thanks to funding from the Welsh Government.
The Circus Village is coming to Swansea for the first time, led by the internationally acclaimed NoFit State Circus in a partnership with leading circus companies and artists, and an international crime fiction festival in Aberystwyth will receive Event Wales funding for the development of the events.
NoFit State will welcome around 200 UK circus artists for a programme of collaborative professional development in South Wales. The Circus Village was first held in 2021 and building on the success of this, 2023's participants will live, work and create together in a purpose-built site with three Big Tops, culminating in a public celebration and 3-day Circus Festival in April 2023.
The event will welcome audiences onto the site and into the Big Tops to see new work created by participants of The Circus Village, alongside NoFit State's current touring production, SABOTAGE.
Tom Rack, Artistic Director, NoFit State Circus, said:
"NoFit State is very grateful for Welsh Government's generous support for the Circus Village & Festival 2023.

"Thanks to their investment, we're able to expand the Circus Village project - primarily focused on skills development for circus professionals - and bring to it a public Circus Festival, allowing us to share amazing, innovative contemporary circus with Welsh and UK audiences.

"Three Big Tops, four different shows - Swansea will have never seen anything like it. It will be an epic finale of an epic project."
Gwyl Crime Cymru Festival is Wales' only international crime fiction festival, profiling the rising stars of Welsh crime fiction alongside bestsellers and household names from the UK and abroad. It has been held digitally in 2021 and 2022. The first live edition is planned for 21-23 April 2023.
Aberystwyth, which is already well known as the home of crime TV series Y Gwyll/Hinterland, will be the home of the festival, and the aim is to establish a world-class, international crime fiction festival for Wales. The event will also support writers to develop new Welsh crime writing talent and to promote Welsh artistic life in and beyond Wales.
Alis Hawkins, Chair of Gwyl Crime Cymru, said:
"The organisers of Gŵyl CRIME CYMRU Festival - until now an online-only festival - are thrilled that support from Event Wales will now allow us to stage Cymru's first ever international crime fiction festival in Aberystwyth in April 2023.

"We're delighted that the need for such an event has been recognised and we look forward to delivering the event in April."
Continued funding has also been agreed for FOCUS Wales, an annual music industry multi-venue festival, utilising 20 stages across a variety of venues and locations in Wrexham.
Deputy Minister for Arts and Sport, Dawn Bowden, said:
"I'm delighted that we're able to support the development of these home-grown cultural events which will be exciting additions to the cultural event calendar in Wales.

"They will give a great platform for skills and talent development as well as providing even more reasons for people to visit Wales in 2023."
Notes to editors
Photo caption: NoFit State's current touring production, SABOTAGE. Credit: Mark J Robson