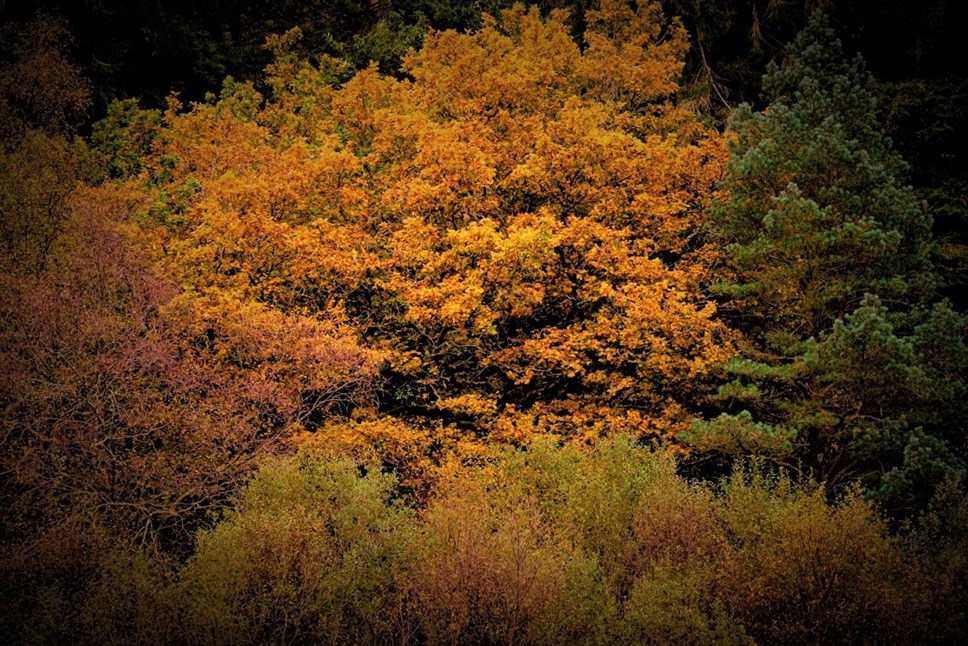 27 woodlands join National Forest for Wales
The Welsh Government has today announced that 27 woodland sites will join the National Forest for Wales network.
15 of the sites are the first to join the network since the National Forest Status Scheme launched in June, which has enabled a wider range of woodlands to become part of the National Forest. These could be small urban or community woodlands, private land or farms, or large areas of land owned by local authorities, charities or timber-producing woodlands.
The 15 sites cover an area of nearly 800 hectares, varying in size from the Erlas Walled Garden in Wrexham to larger woodlands like Wentwood in south east Wales.
Natural Resources Wales has also proposed 12 areas of the Welsh Government Woodland Estate which will join the network, adding nearly 24,000 hectares. These join the 14 sites that are already part of the National Forest.
In 2020, the First Minister announced plans for the National Forest for Wales, to create areas of new woodland and help restore and maintain some of Wales' ancient woodlands.
First Minister Mark Drakeford said:
"I'm really pleased to see how so many communities are getting involved with the National Forest. The expansion will contribute towards creating a continuous woodland stretching from north to south, west to east, bringing long-term environmental, health and well-being benefits to all corners of Wales.
"The National Forest will create an enduring asset, similar to our Wales Coast Path, which provides many benefits, not just for our population today, but for generations to come.
"Congratulations to the new woodlands on becoming part of the National Forest and helping us deliver this important ambition, which will change Wales's landscape for the better."
Julie James, the Minister for Climate Change, said:
"As the National Forest for Wales expands, so will its network and community. Granting National Forest status recognises the hard work so many people and organisations, including many volunteers, have invested in creating exemplar woodland spaces.
"I'm pleased to welcome the new woodlands to the National Forest, which will help to support biodiversity and fight climate change, while creating real opportunities for people in Wales to re-engage with trees, woodlands and nature."
Dominic Driver, Head of Land Stewardship for Natural Resources Wales, said:
"The need to aid nature's recovery is urgent and creating and enhancing woodlands is one of the best things we can do in Wales to respond to the climate and nature emergencies.
"The National Forest for Wales will play an important part in contributing to that response, in a way that works for both people and nature.
"We're really pleased to be able to work with and help support the Welsh Government's plans and play our part in helping to create the National Forest in Wales. We're delighted that 12 more of our forests and woodlands have been announced today as part of the sites that will join the growing National Forest for Wales network.
"The National Forest for Wales belongs to us all and we encourage woodland owners to speak with our dedicated team of liaison officers who will be able to offer valuable support and guidance."
Notes to editors
The 15 National Forest for Wales Status Scheme sites are as below:
| | |
| --- | --- |
| Site name | Size in ha |
| Oakfield School | 0.4 |
| Cogan Wood | 16.5 |
| Porthkerry Country Park | 97 |
| Bryngarw Country Park | 40 |
| Coed Cerrig | 2.15 |
| Dee Park | 11 |
| Erlas Walled Garden | 1 |
| Acton Park | 24 |
| Coed Hendre Ddu | 128 |
| Wentwood – Coed Cadw | 353.6 |
| Mere Path | 0.64 |
| Bath Wood | 0.47 |
| Mynydd Mawr | 97 |
| West Ford Farm | 13.6 |
| Coed Llanandras | 3.4 |
| | |
| Total area | 788.76 |
The 12 Welsh Government Woodland Estates sites to come into the National Forest for Wales, which total 23,928ha, are:
Cwm Carn Forest Drive and Risca Forest
North Ceredigion Woodlands and Forest
BBNP Woodlands and Forests (not Waterfall Country)
Clwydian Range
Pembrey/Pen-y-Bedd
Beddgelert/Eryri
Crychan Forest:
Alwen Forest/Llyn Brenig
Rhinog
Irfon Forest
Llyn Parc Mawr
Bargoed/Sirhywi
The 14 sites originally announced for the National Forest are included here:
First sites announced for National Forest – "Among very best woodland in Wales" | GOV.WALES